This story wasn't supposed to be about Chhaya, the woman in the photograph, but her son.
Jay, Chhaya's son, had e-mailed about covering his startup – Tailorzone. However, half way through digging Jay's story on a call, I felt his story would be incomplete without that of his mother – Chhaya Sonavane. 3 days later, I went to their home to meet Chhaya. 
"What will you write about me? Mene toh esa kuch bada kia nahi hai (I haven't done anything great), says the humble and slightly coy Chhaya, as Jahnavi and I try to settle in the living room.
It is a one-storied apartment in Behrampura area of Ahmedabad. The home has no dust wheresoever to dull its sombre beauty.
It is also apparent that Chhaya has put efforts to look her best today. Her hair is well-combed, sari is neatly plaited and she has a gold necklace on.  She seems quiet prepared for the interview. She holds a final 10 minute dialogue with a few young girls and gives them a time for next day.
"I am sorry, these girls are currently learning here. I was telling them of tomorrow's class timing"
[inlinetweet prefix="" tweeter="" suffix="http://wp.me/p7eOCO-JO"]I can sense her priorities set right there – work before anything fancy.[/inlinetweet] She joins us while fetching the tray with 2 glasses of water from the kitchen.
Chhaya is in her 50s and teaches tailoring to around 60 students everyday, out of the top floor of her home.
"These people don't allow me to work a lot anymore, varna pehle toh mein shifts mein kitni saari ladkio ko sikhati thi (otherwise I'd teach so many girls in several shifts)", she says, pointing to her son, justifying how 60 is still a less number for her.
It has been 31 years since Chhaya became friends with the stitching machine.
My husband worked in the Calico Mills in early 1980s. The mill suddenly closed down leaving my husband who had an issue in his legs, jobless. My elder son was just 4 years old at that time," says Chhaya who was born and brought up in a Dharangao village near Jalgaon in Maharashtra and had studied only till class 10.
If there was something Chhaya was strongly clear about, was that she wanted her child to study in an English medium school. Chhaya had grown up in poverty and had made up her mind that she wouldn't let her kids struggle like her, ever since she conceived her first child
"I had never worked before, neither did I know anything in specific. But we are Darjis (community of tailors) by caste, so I knew I would have art of tailoring in my blood.so I asked the tailors in the locality to teach me, but no one agreed to teach me for anything less than Rs. 20, which was way beyond my pocket. One day I told my jeth (brother-in-law) about it and he took me to a tailor. I was made to commit that I will not speak or ask, just watch"
On her day 1 at with the non-interactive learning session with the tailor, Chhaya came home, got hold of some old cloth pieces and opened the book she had scribbled the steps on.
"I'd write and draw without even seeing on the page. It is intricate and I couldn't miss on observing a single step"
Chhaya, with her husband's help made her first unstitched blouse on her first day of learning with the tailor.
"[inlinetweet prefix="Chhaya learnt like Eklavya. "" tweeter="" suffix="Read: http://wp.me/p7eOCO-JO","]I am a very sharp observer. If I see something once, I will never forget it.[/inlinetweet] So is my son", she says pointing towards Jay.
Chhaya flaunts how Jay used to stitch petticoat and trim saari's pico ever since he was 6-7 year old.
"But he wouldn't do it in front of everyone. He had grown up seeing me do this and picked up the art. His little contribution helped me save time to do house work."
Jay smiles. Jay is an IT engineer now. His brother works out of Pune in an IT company.
I put my kids in one of the best schools in my area. Everyone in my community told me that I will not be able to afford the expense and my kids would definitely have to drop out half way. But I was quiet stern with my decision. I knew the value of good education because I felt everyday what all I couldn't be because of lack of it"
Chhaya tells me how she practised day and night and gradually picked up on skill and speed.
"Now, I can make a blouse in an hour or so"

"After I had learnt stitching, the next big struggle was to find customers and it was not easy at that time. One, I was not experienced and hence people would think before risking their material. Also, I did not know how to speak Gujarati. Gradually, a few people believed in me and I started getting customers. Things started shaping up and after a few years, my husband began driving auto-rickshaw," added Chhaya.
An NGO approached Chhaya and proposed the idea of her teaching stitching to others. Chhaya readily agreed to it. However, eventually sensed that the NGO was treating her like an eye-candy and was also underpaying for the effort she'd put.
"I talked to the lady who had asked me to start this, about how I felt uncomfortable everytime she'd bring people to my home to display her deed. I was also getting extremely underpaid for the job I was doing. She told me point-blank that I deserved just this much amount of money, which I knew wasn't true. I had to let go of the project after she used her power on me"
A month passed and it became difficult for Chhaya to manage expenses that were earlier taken care by money that the NGO paid to her. However, lows aren't permanent, are they?
"An old customer came with her daughter and asked me to teach her. I accepted. Gradually, girls from the colony began joining in and there was a time where I'd run my classes in 3 shifts. Soon, I was running my own training centre"
Chhaya shows me an album of group photographs of picnics she has taken her girls to since her first batch started. Arun, Chhaya's husband too joins us for the conversation.
"When my elder began studying in class 10, I became anxious about his studies. He had never taken coaching before but since it was boards, I couldn't take the risk. However, I also knew I didn't have enough money to pay for his coaching fees. So I went to one of his teachers, Mr. Pillai, at school and told them about our financial condition. He told me that my son could study at his coaching for negligible amount and would never be bothered about money for studying. I couldn't believe when I heard him say that. My sons have grown seeing such instances and they know the value of every single penny."
The same teacher also taught Jay for his boards.
"[inlinetweet prefix="" tweeter="" suffix="Read:http://wp.me/p7eOCO-JO"]Our mom didn't have a lot to give us except for values. [/inlinetweet]She never let us feel financial constrains. She'd work on nights, take up extra assignments, and would still take her time out to talk to us, teach us good values", Jay says.
At this point, Chhaya's eyes are visibly proud and sparkling. She tells me how her sons went to college, were forced and coaxed by peers to take up habits like that of drinking and smoking, but they didn't.
"One day my son came and told me how he was forced by his seniors to take a drag of cigarette but he didn't. He told them that he cannot since he had promised his mother. The guys who were forcing him, appreciated him. That day I felt I've done my job of being a mother right"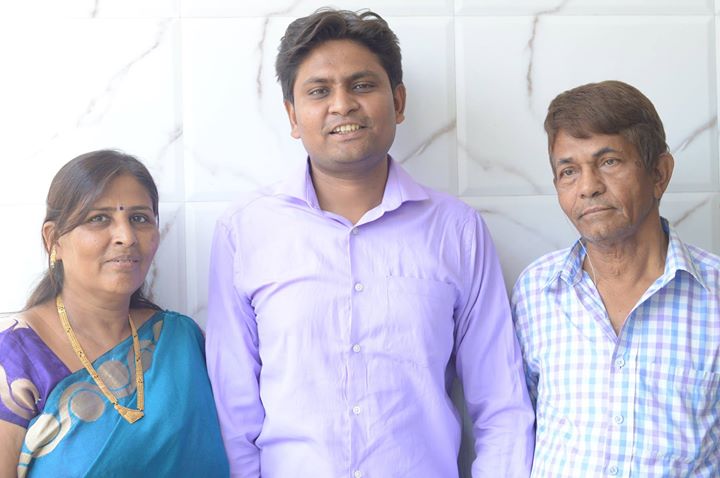 Chhaya tells me that money drives her.
"Mane paisa kamavva bau game (I love earning money). Even now, my sons ask me to take rest, they sold my machines so I'd stop working. But I just cannot not work, so I've started working again. Now it is not for money really, but more out of the passion to teach. Girls who learn here start their own tailoring shops and earn too. I see myself in them. [inlinetweet prefix="" tweeter="" suffix="http://wp.me/p7eOCO-JO"]I can teach any girl to make at least Rs. 500 everyday and stand on her feet "[/inlinetweet]
While she recollects memories of her last 31 years, she tells me how she'd actually see money in every cloth piece.
"I would see notes in front of my eyes that would keep me up all night and pushed me to work [inlinetweet prefix="" tweeter="" suffix="http://wp.me/p7eOCO-JO"] I had seen so much scarcity of money and I just wanted to make up for all of it"[/inlinetweet]
She has tears in her eyes when she says this and I get goosebumps.
Chhaya has been a teacher to over 3000 women so far. She takes immense pride in her students who've started up their own business. [inlinetweet prefix="" tweeter="" suffix="Read: http://wp.me/p7eOCO-JO"]Chhaya is a story of fighter, a woman of substance with a spirit of unbreakable determination. [/inlinetweet]
She gets us a plate of snacks she's already kept ready before we came. Out of courtesy we did say 'no' for a couple of times.
"I don't let anyone go from my home without eating good food. I will not let you girls go as well."
Photo Credits: Jahnavi Pandya
Bringing you independent, solution-oriented and well-researched stories takes us hundreds of hours each month, and years of skill-training that went behind. If our stories have inspired you or helped you in some way, please consider becoming our Supporter.