We are talking about this pocket phone book that every wannabe actor in mid-80s would buy from Mumbai local. There's Harsh Chhaya on the other side of the table, sipping on a cup of black coffee, unaffected by the I-have-seen-him-on-TV gaze by people around us in the cafe.
"You know, we used to get this small diary in locals which would have phone numbers of some connected people in the Bollywood, who would connect one to more. At least that's what the cover page said. So I bought it. Kaam kese dhundta warna?"
Deep voice. Sharp gaze. And occasionally mimicking characters from his life while telling his own story. It is apparent that the conversation is with a seasoned theater actor.
Here's the introduction — Harsh is a veteran actor from the Indian television and film industry. My memory of him goes back to Hasratein, one of the astonishingly progressive shows of the 90s, that I discovered in archives.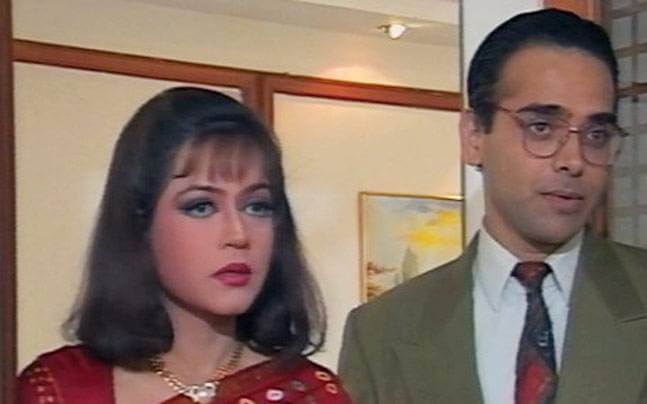 "It all started with a 40-second dialogue that I delivered in one of the plays in class 6th. It was our school's annual function. I walked on the stage, near the mic, and was amazed at the sight of the audience — almost a thousand of them, everyone sitting there quietly to listen to what I had to say. It made me feel important, no matter how small my character was. I told myself 'actor banunga'."
A dream a lot of us once had, never revealed. And like a lot of us, 11-year-old Harsh thought it was best to shut up about it.
"Kese bolta, haste na sab mujh par. Ek toh vese hi padhai mein mediocre tha. Looking back at how I was in my 20s — I was lost. Ridiculously lost. My mother would push me to attend a typing class so that I could do something. Often, my relatives would bump in and advice about starting a Desktop business. I would imagine myself as a Xerox machine owner, typing for people at my shabby shop."
Harsh continued acting with various theater groups, but he knew theater wouldn't help him make a living.
"I was a Delhi boy, cocooned and cared for. I thought I wouldn't be able to live a life where am surviving on tea and bread."
Bunking interviews where he was pushed to show up, loitering around, wasting time with friends had become a routine for Harsh.
"One day, my father brought out the topic of me taking a break, an idea he had suggested when I was just out of class 10th. He said, 'Why don't you take a break and follow your passion for a year? You anyway have nothing to do.'"
Clueless, Harsh took up a painting class. In his free time, he would join a friend from theater club who was a one-man film-making company. Eventually, he picked up a job of an assistant to a producer.
"My job role included waking the crew up in the morning, getting tea for everyone whenever they wanted, painting the walls, cleaning the place. Though it wasn't a glorious job, it felt like something I wanted to do. There was a belonging that I felt in the middle of lights, cameras and the chaos. Meanwhile, I applied to Jamia for Mass Communication."
Harsh failed the institute's interview. Next year, he re-applied and got through.
"Getting admitted to Jamia was the first good thing that I had done in the entire course of my life as a student. Finally, there was something my parents were proud about."
Jamia was exactly where Harsh wanted to be, doing exactly what he wanted to do.
"However, a while later, I went what you call 'nuts' for acting. It came in me from somewhere, maybe it was Harsh from class 6th. I took up odd jobs to distract myself. Laga acting ka keeda marr jayega. But that didn't happen. It just kept getting more extreme. It might sound dramatic, but it actually became a question of my existence."
So one day, Harsh just packed his bags and moved to Mumbai. No plans whatsoever.
"Now that I had a backup plan, I decided to give it a try. Chal gaya toh theek, warna wapas freelance film-making mein. I hate living with regrets."
Thankfully, his uncle agreed to host him for some time.
"My stay and food were sorted, the biggest expense in Mumbai. But my father made it clear to my uncle to ensure that I move out of the house within 6 months. And the fact that he wouldn't give me a single penny."
When Harsh moved, he already had a series from Delhi — which was on-air.
"There was something I had to show. Something people would recognize with. When I left, I had Rs. 9000 from my savings. My calculation was — if I spend Rs. 50 every day, I would be able to survive for 6 months. Something would work out in that much time."
But how does it feel like, to just land in a place without a plan?
"It was scary! That feeling when you know that none of your family members is saying anything, but inside, everyone is laughing at you. Everyone is looking for that one chance to say, 'Bada hero banne gaya tha!'"
Harsh tells me how he'd dread the image of seeing his photo hanging in the living room of their home, everyone looking at it and laughing.
"Through Jamia, I knew some photographers back in Delhi. So one day, I went up to this friend's studio, Hemant Chaturvedi, with some Stardusts and other fancy magazines. I asked him to take my pictures similar to Bobby Deol. He laughed for several minutes! I had become shameless by then. He is now one of the very famous DoPs in the industry."
Over the first breakfast at his uncle's house, he was questioned about his plans.
"'Do you have any contacts, though?, my uncle asked when I said I had come without a plan. That's when I confidently got my pocket phone book out that I got from Khar station, which had phone numbers of some big people in the industry. He laughed, naturally. This was my plan."
Despite several call drops and "call me some other time", Harsh didn't deter. He'd make a fixed number of calls every day and this one day was Mr. Devanand's turn.
"I knew nothing would come out of it. Usually, secretaries answer calls and don't give heed. To my surprise, the person on the call was Devanand ji himself!"
He mimics Devanand ji while he shares the conversation.
"He gave me an appointment to meet him on coming Friday. Afternoon, 2 o clock. That specific."
Harsh reached on the decided day. The man at the reception greeted him with, 'yes he has been waiting for you.'
"I was shocked, witnessing his sheer humility first hand! Devanand was waiting for me. He opened the door himself and we spent lovely one hour chatting about my life. Though nothing came out of the meeting, that is one memory I'll always cherish!"
Eventually, Harsh grabbed a minor role of Jijo, in a serial by Zee TV. Dillagi, Justujoo, Hasratein and others followed. In 2000, he got his first role in a movie, Dil Pe Mat Le Yaar! followed by Corporate, Oh my God!, Fashion and Bheja Fry.
"Did you ever reach a plateau? That point where you didn't want to do acting anymore", I ask.

"I don't think that'll ever happen to me. Yes I did reach a plateau with serials, so I switched to theatre. I will be next seen in an upcoming Gujarati film — Shubh Aarambh."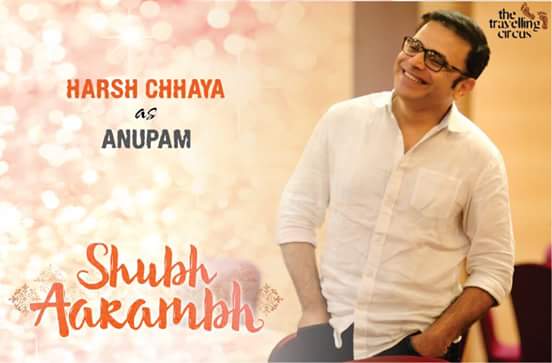 Talking about his stint with Gujarati cinema, Harsh shares,
"I have been doing some roles in Marathi and Bengali cinema for a while, and I always felt stronger connect with regional cinema. It goes beyond the mainstream hero-villain plot. I was waiting for something I'd say 'yes' to and Shubh Aarambh's script had it in it."
Harsh's optimism is infectious if you talk for too long. It was almost 2 hours into the conversation when he shares his life lesson,
"Always follow your heart. Bolne mein bada cliche lagta hai. Some of your actions may defy logic and conventions. It is better to live with failures brought by those actions than live with regret and 'what ifs'.
As I prepare to pause the recorder on my phone and wrap up my things, I recall Marie Beynon Ray's words,
"Indecision is fatal. It is better to make a wrong decision than build up a habit of indecision. If you're wallowing in indecision, you certainty can't act — and action is the basis of success."
Bringing you independent, solution-oriented and well-researched stories takes us hundreds of hours each month, and years of skill-training that went behind. If our stories have inspired you or helped you in some way, please consider becoming our Supporter.