Our goals can be similar but our means to achieve them can be different.  Though it is widely claimed that Gandhiji's principles of non-violence brought India her Independence there are several revolutionaries who played a prominent role in India's struggle for Independence.  Bhagat Singh who was martyred at the age of 23 is one amongst them.  He will always be remembered as 'Prince of Martyrs' for his courage to take the rocky path with resilience.
He was an outright socialist whose methodology involved collective action by the masses rather than individual valour.  Bhagat Singh's vision was to make India an independent nation that belonged to a socialist and egalitarian society.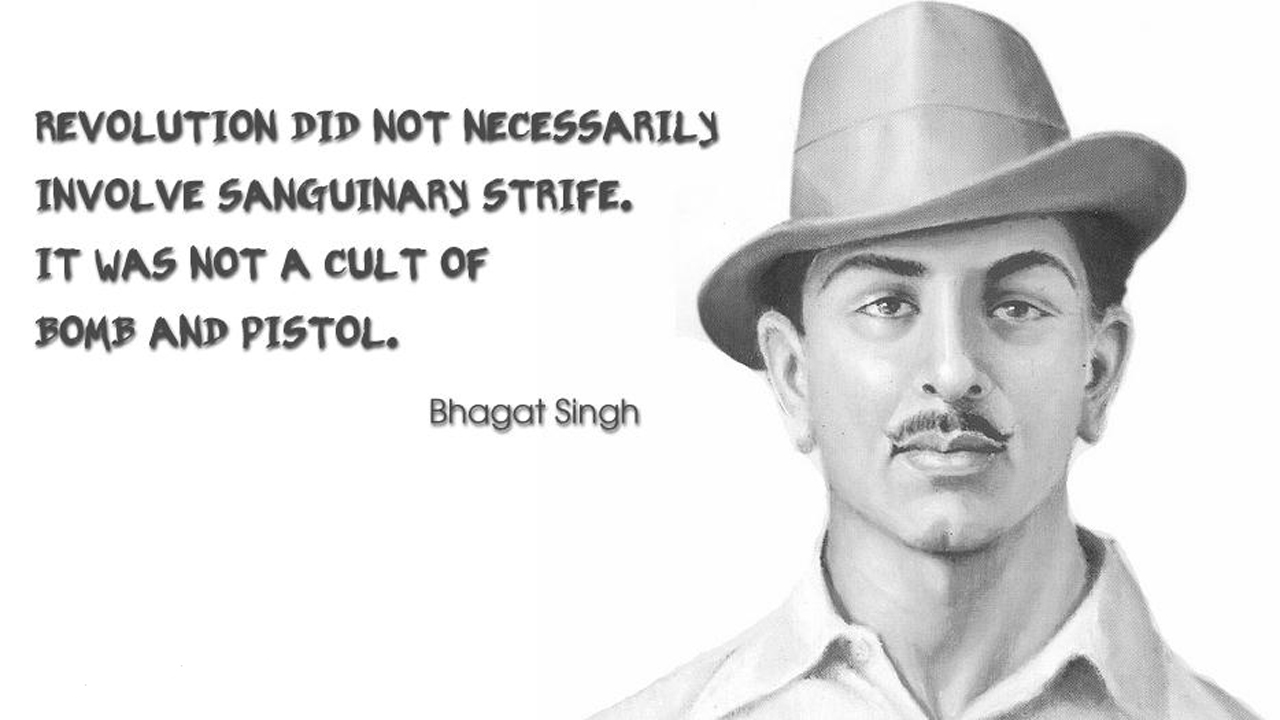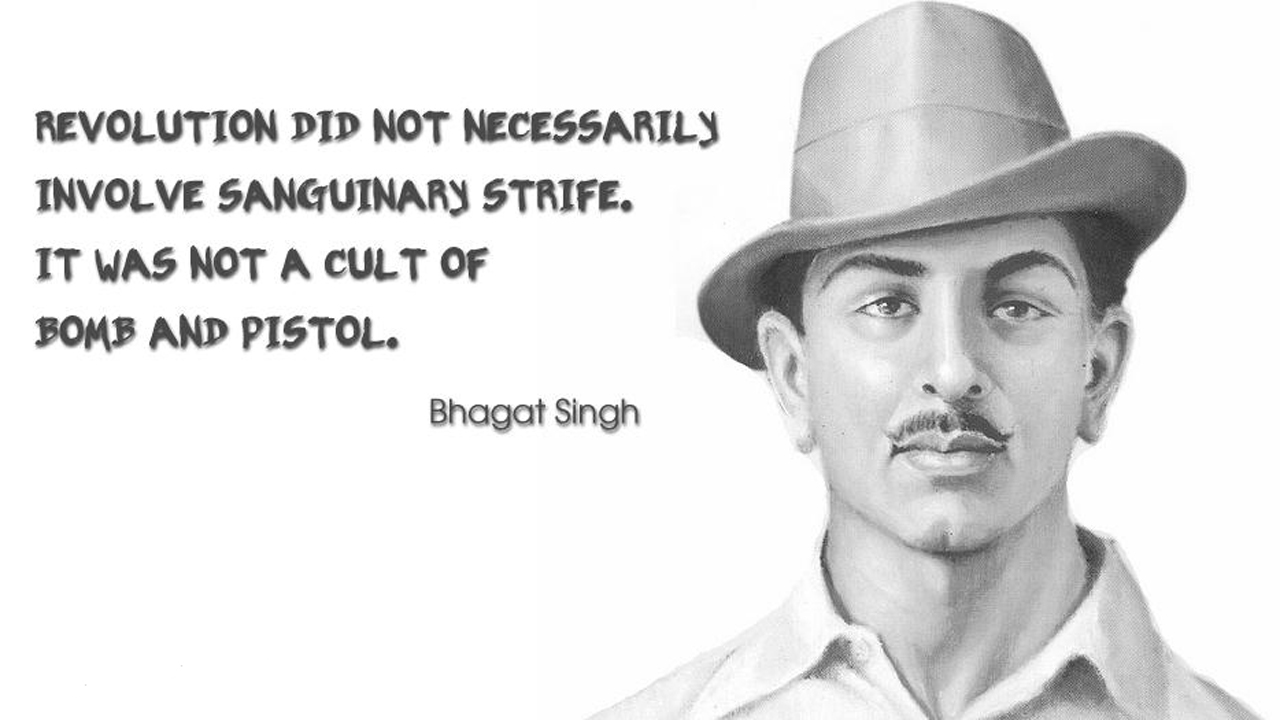 On 23rd March 1931 the British government hanged three revolutionaries Bhagat Singh, Rajguru and Sukhdev all who welcomed death in a purely heroic way.  However among all the youth leaders, the most inspirational hero of all time whose courage remains unparalleled is undoubtedly Bhagat Singh.
A young Bhagat Singh ran away from his home in Kanpur when his family tried to get him married.  He ardently rejected this and said that, "if his marriage was to take place in slave-India, my bride shall be only death."  Following this he joined Hindustan Socialist Republican Association thus leading to his entry into politics.
Bhagat Singh and Sukhdev had planned to kill the Superintendent of Police, James Scott in Lahore in order to avenge the death of Lala Lajpat Rai.  But the plan backfired and due to a case of mistaken identity, John Saunders, the Assistant Superintendent of Police was shot.  Bhagat Singh managed to escape from Lahore to Calcutta by shaving his beard and cutting his hair to avoid being recognised and arrested for murder.
In response to the formulation of Defence of India Act, the Hindustan Socialist Republican Association planned to explode a bomb inside the assembly premises. Along with the bombs, Singh, also threw in copies of a leaflet in the assembly that quoted a French agitator as saying, "It takes a loud noise to make the deaf hear", and signs off with the now epochal statement, 'Inquilab Zindabad! 'or ' 'Long live the Revolution.' He did not resist his arrest at this point. The bomb was not meant to kill or injure anyone and therefore it was thrown away from the crowded place, but several council members were injured in the disturbance. Following the blasts both Bhagat Singh and Batukeshwar Dutt courted arrest.
During the trial Bhagat Singh and his inmates declared an indefinite hunger strike in protest of the difference in treatment of the native and white prisoners.
All through his trial he didn't offer any defence and always propagated India's freedom.  Freedom was not only his dream for India but also an India that was free from poverty and socio- economic disparity.  From a very young age Bhagat Singh had patriotism embedded into his blood and he longed for a British- free independent India.  Bhagat Singh  was an avid reader.  His tastes were diverse and primarily read works of socialist writers. Charles Dickens, Lenin and Maxim Gorky were among his favourites.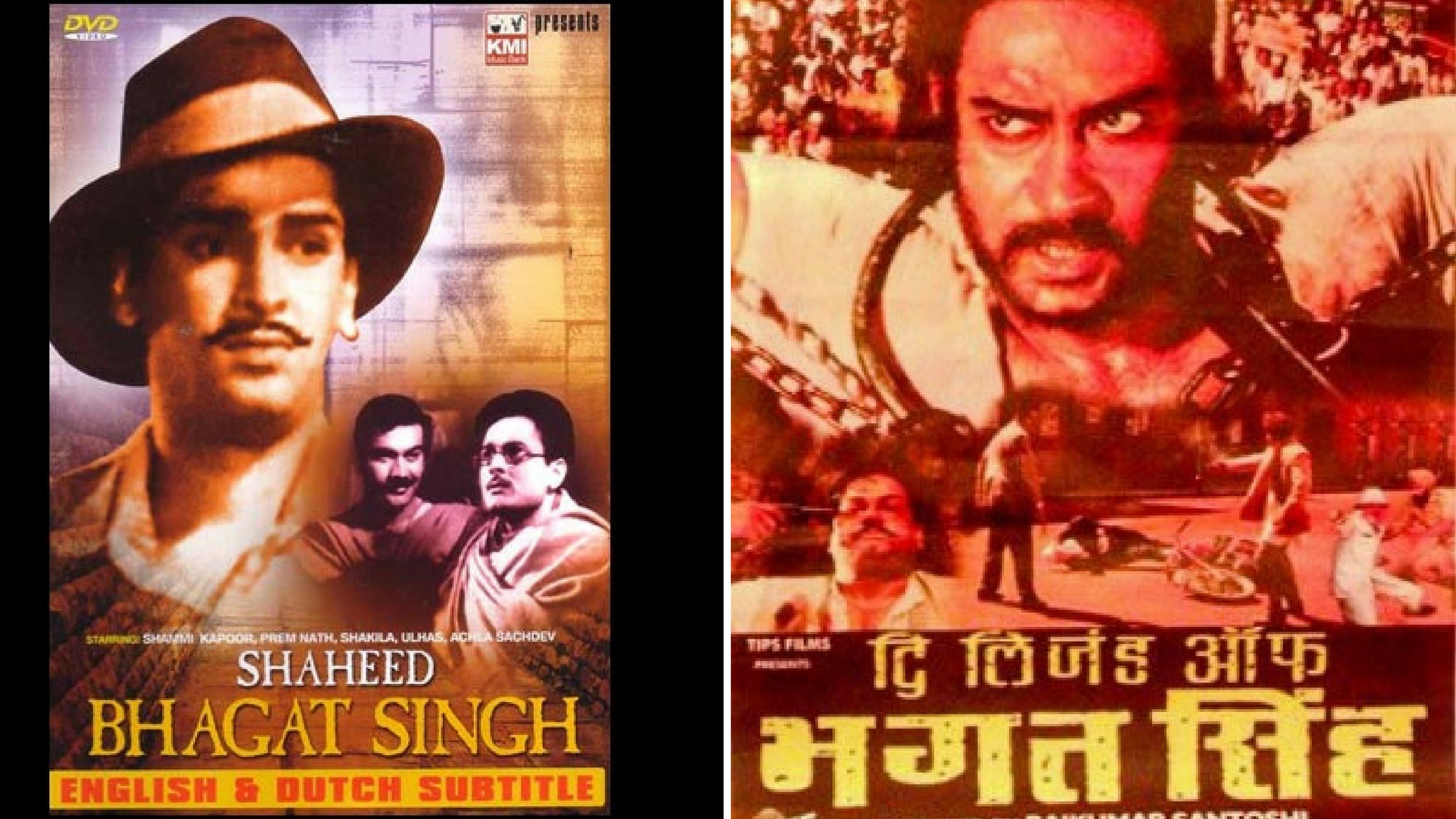 One cannot forget Bhagat Singh's slogan 'Inquilab Zindabad 'which became the rallying call for the freedom struggle.  His popularity and influence continues to be felt amongst the youth.  Drawing inspiration from his life several movies like "Shaheed" (1965) and "The Legend of Bhagat Singh" (2002) were made on the life of 23-year old revolutionary. Songs like the "Mohe rang de basanti chola" and "Sarfaroshiki Tamanna" continue to ring in our ears and ignite the spirit of patriotism, all dedicated to Bhagat Singh.  His legacy continues to exist through articles, books and documentaries.
Bhagat Singh is not just a name but an idea who continues to inspire generations.
Bringing you independent, solution-oriented and well-researched stories takes us hundreds of hours each month, and years of skill-training that went behind. If our stories have inspired you or helped you in some way, please consider becoming our Supporter.