[soundcloud url="https://api.soundcloud.com/tracks/257246771″ params="auto_play=false&hide_related=false&show_comments=true&show_user=true&show_reposts=false&visual=true" width="100%" height="450″ iframe="true" /]
I came into my room, turned on the A/C, sat down, flipped open my Macbook pro and turned on some music on a swanky stereo because I needed the perfect environment to write my first story for Chaaipani. You never want to mess your first, whatever it might be, and yet you do.
You might wonder why I started by being a total show-off. I do so because on a busy Sunday afternoon, I was reminded of how easy my struggle is. I was shown what conviction looks like and what a real dare is all about. And how the causes that I stand up for have a long way to go before they make an impact.
Karan and Saskia are a couple. Karan is from Himachal, Saskia from Germany. They met, fell in love and got married. But that's not the important part. Everyone does that. (Or at least they say they do, on social media). The fun thing about them is that they planned to go on an year long trip around the country which changed their lives. Now I know this might sound like one more of those "let's take a road trip around the country cause we got swag" kind of stories but I promise you it isn't. Just trust me and read on. I'll cut right to the chase.
"He was supposed to go to Delhi and I was to stay in Dharamshala. That's not the way I wanted it to be. I did not get married so I would have to stay away from him", says Saskia when I ask her how it all began. 
"Give me one year, I told him. We will go around the country, we could manage without money, we will figure it out"
The two puppies they adopted while in Bengaluru are under the table at the cafe where we met. They love snuggling up to my feet and though I am not so much of a dog person, I let it be because it was oddly comforting.
They reached Bengaluru in their journey and ended up working and living at an orphanage.
"The original idea was to stay there for a couple of weeks, enjoy, and then leave. But we ended up staying there for 2-3 months", Karan says this as they chuckle and tell me how they got attached to the children.
There is something that children do to people which is unlike anything that I have ever known. Maybe it's their honesty, maybe it's the ability to learn so fast, you're amazed at what they can do. Or maybe it's just their ability to make you realise how little the rules of a society matter, of how you're meant to be free. Maybe that is where you find your inner freedom, nested in their giggles and naive interpretations of the world. This couple found their life's motivation somewhere in these kids.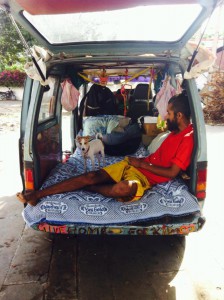 This is when they decided that they wanted to use their small piece of land in Dharmshala and turn it into a home for the orphan and children born to single parents who find it difficult to take care of them.
It is this point in the conversation where I get to peek into their inner intents.
"What is the use of education if it does not make you more caring to the environment you live in?", Karan asks rather rhetorically as he recalls how he has personally witnessed the most "educated" people show their dark sides when he was a kid.

"We want to build the house completely out of recycled material and we want to grow our own food outside. Keep it as self sustained as possible", he tells me as he elaborates on their plan for the kids they wish to nurture.
The conversation helps me understand how they have a very clear picture of what they really want education to do to children and how they feel it needs to be more about value than about information.
Problems of the society and the environment at large that Karan and Saskia talk about aren't new to us. Leonardo DiCaprio has been screaming it from the highest stage that he can and so have a lot of other people, and yet there is little that we have been able to do about it.
Being with children probably helped them understand what they really wanted to live for. This is where we get back to our story. Saskia saw an Omni (The Maruti Van we are all so familiar with) on the streets of Bengaluru and told Karan that she wanted it.
"It reminded me of the Volkswagen van"
Maybe it reminded her of Germany and the things back home. It was a 1992 Maruti Omni.
"We had the kids in Bengaluru paint it," Saskia says as I make my way around the car.
For an automotive design lover like me, the car was borderline ugly but when I went closer I saw the amount of individuality that it carried in itself. The van wasn't the manifestation of a single man's emotion or the finesse of a painter hired for a job. It was a hundred different moods and expressions colliding in a space that was chosen out of a simple love for what we call home.
The back seats are filled with artwork that they sell along their way whenever they get a chance.
"It's a drive to make people more aware about the real problems that we face today. About the flaws in our society and how it is our collective responsibility to make it right for the generations to come", Saskia tells me as we make our way back into the cafe.
"Social media has been a great help", they continue and tell me how Facebook has helped them reach out to so many people on a daily basis and how they are slowly starting to feel the change that they can make. This is when Saskia bursts into a soliloquy about all the things that they could do. They are normal people, it doesn't take long before they get boring. What's interesting is their conviction, what's interesting is their ability to go on without stopping, without kneeling down to the tides of everything that works against them. Their story is not about the people they are, or about the things they have or can accomplish. It's about the conviction, a simple, tiny, flickering pulse of determination inside a human that won't stop at anything.
I felt I made a great leap of courage when I left my job and started following my dreams. I felt it was brave. And I felt startups were brave. But my definition of bravery was aptly adjusted when I met them and realised how little I have done, and how much I could. I am way too comfortable where I am and yet I am doing way too little compared to what I could. I wish I could make the keystrokes count. If you find this story appealing, make sure you visit their Facebook Page or you could directly connect to Karan and Saskia to know more about where they're headed next.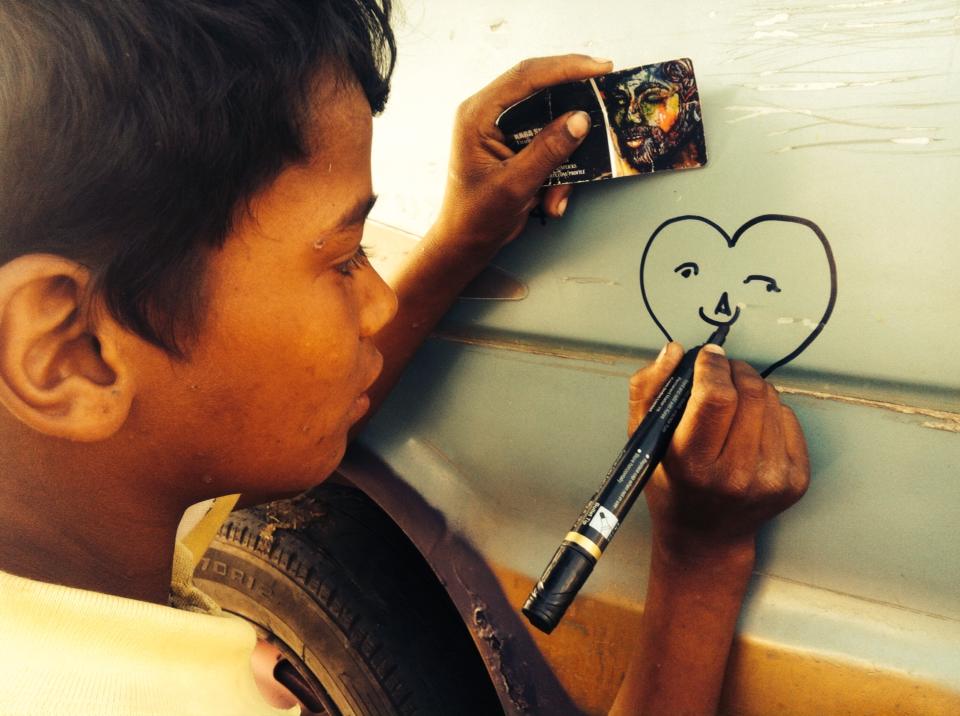 And thus ends the first chapter of my journey with Chaaipani. I hope you found this story interesting and I hope I will keep serving you more inspiration every morning.
Bringing you independent, solution-oriented and well-researched stories takes us hundreds of hours each month, and years of skill-training that went behind. If our stories have inspired you or helped you in some way, please consider becoming our Supporter.