"उँचे पहाड़ पर पेड़ नही उगते, पौधे नही उगते, बस घास जमती है"
Go through some of Atal Bihari Vajpayee's poetry, it is sure to give you goosebumps and impart some sense of wisdom in you. He has unarguably been one of the most efficient and respected Prime Ministers our country has witnessed. A fine orator, a voracious reader, a fearless poet and a true statesman, Atal Bihari Vajpayee lived his life working towards the dreams he had for the country.
"If India is not a secular nation, then India is not India at all."
Vajpayee was among the founding members of the Bhartiya Jana Sangh which he restructured to Bhartiya Janta Party (BJP) in 1980. He was the first Prime Minister not belonging to the Indian National Congress to serve a full five-year term (1998-2004). In 2014, Vajpayee was honored with the Bharat Ratna, India's highest civilian honor by the President of India. In 2014, under the government of Narendra Modi, it was also declared that Vajpayee's birthday 25th December would be observed as the Good Governance Day.
Atal Bihari Vajpayee's speeches had the power to leave no stone unturned. Here is an oration that was delivered by Vajpayee in 1980 at BJP'S first national executive meeting. It will give you an insight into the noble man that he was.
"This is the first national executive meeting of the Bharatiya Janata Party (BJP) and I have been unanimously chosen as the President of this executive. May God give me the strength and courage to shoulder this responsibility. The position of the president of the BJP is not an ornament; it is not a position, but a responsibility. It is not an honor, but a test. It is not glory, but challenge."
As we mourn the man today, let us also take a look at Vajpayee's legacy and noteworthy achievements.
Atal Bihari Vajpayee – The Man Who Changed India
Vajpayee maintained a remarkable GDP of India during his time. In 2004, when Manmohan Singh took over from Vajpayee, our economy was in great shape. India's GDP was above 8 percent and inflation below 4 percent. This was despite India suffering a devastating earthquake in 2001, two cyclones in 1999 and 2000, an oil crisis in 2003 and the Kargil conflict of 1999.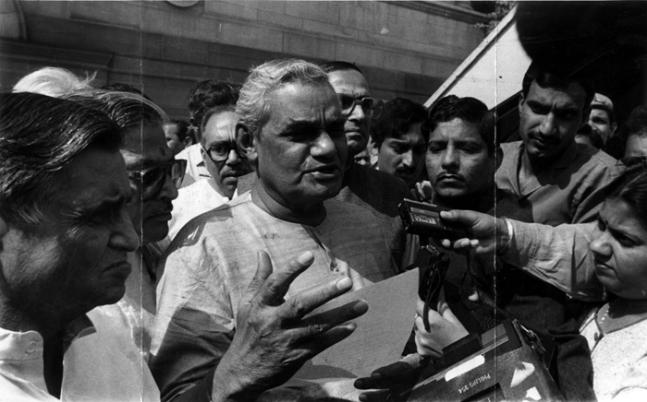 The lifeline of the national capital, Delhi Metro Line was first approved and inaugurated by Atal Bihari Vajpayee. He even boarded the first line at Kashmiri Gate.
Vajpayee was also the man behind India's friendly International Relations with other countries. He improved trade ties and made an attempt to resolve territorial disputes with the People's Republic of China. He was also among the first passengers on the inaugural Delhi-Lahore bus which established connectivity between India and Pakistan for the first time in 1947.
Vajpayee was also responsible behind our Telecom success story. He replaced fixed license fees for telecom firms with a revenue sharing arrangement. This is how Bharat Sanchar Nigam Ltd. Was created to separate policy formulation and provision of service. His New Telecom Policy (NTP) led to a telecom penetration rate rise from below 3% (1999) to over 70% in October 2012.

Vajpayee's most memorable achievement was the launch of the road project- the Golden Quadrilateral and the Pradhan Mantri Gramin Sadak Yojna. This was a network of highways that connected the four metro cities- Delhi, Mumbai, Chennai, and Kolkata. This helped increase farm produce and have access to better healthcare/education. Under his leadership, Vajpayee gave BJP the image of a true economic right wing. "Freedom is incomplete without social injustice", he once said.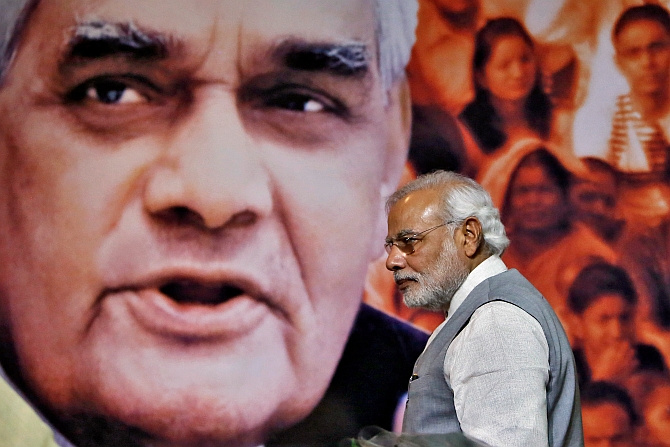 Remembering the man with one of his most inspiring poetry – Aao fir se diya jalaye.
Bringing you independent, solution-oriented and well-researched stories takes us hundreds of hours each month, and years of skill-training that went behind. If our stories have inspired you or helped you in some way, please consider becoming our Supporter.