Rio Olympics fever is in full swing. All eyes are on our contingent who have worked so hard over the years. Many of us stayed up through the night to watch first Indian female gymnast Dipa Karmakar, qualify. Or Indian Women's Archery team efforts as they failed on a close call, 5-4 against Russia. Or Abhinav Bindra who missed a medal in 10 m rifle by a hair.
This is the story of an athlete who aspires to represent India in Winter Olympics. I feel all the more pride to say that he shares his ground zero with me. Ahmedabad, Gujarat. Vishwaraj Jadeja. Allow me to take a moment to thank VoIP (Voice Over Internet Protocol), that made it easy for me to reach him. He's in Netherlands. We'll get to his story in a bit.
India saw a disappointing time at Sochi Winter Olympics 2014, where our 3 athletes, Shiva Keshavan, Nadeem Iqbal, and Himanshu Thakur participated under the IOC (International Olympics Committee) following the suspension of IOA (Indian Olympics Association) in 2012. Apart from this, India has won 26 medals in Summer Olympics and is yet to win its first in Winter Olympics. But all three athletes won hearts at the Sochi Olympics. Who wouldn't love to see more representation from India at Winter Olympics. This was another reason I was so happy that I got a chance to talk to him (Vishwaraj).
Vishwaraj is an Ice Skater, training in at elevations from 1500-3000 metres as you read this. The first thought I had while I was talking to him, 'Ahmedabad reached 50℃ past this year. No wonder we don't have winter games athletes.'
How did he manage to acclimatize himself to that environment?
"I didn't live in Netherlands when I moved out. I started with my studies in Copenhagen, Denmark in 2008. The coldest temperature dropped below 0℃. I used to deliver newspapers, just to get used to the cold."
Vishwaraj has been brought up in Ahmedabad. Rajendrasinh Jadeja, his father, runs skating academy which coaches 1,500 kids annually. Vishwaraj comes from a family where his aunt was renowned figure and speed skater, and his dad was national skating champion for three years.
"The relation that I share with my father has been that of a coach-trainee first, than of a father-son. My earliest memories as a child have been that of walking and then skating."
Vishwaraj has been roller-skating since he was 4 years of age. Coming from a family with a rich background in sports, both his parents have been supportive of his choices but there is always the inherent fear in most families that one cannot make a living playing a sport professionally. So, he did both, studied hard and trained harder.
"I won my first state skating championship in 1999. Then went on to win state championships three years in a row. Right then I had decided, I wanted to represent India in the Olympics. Ask any athlete they'll tell you the same."
With a country that has bagged 11 Olympic medals in Hockey at a time in its past, now dominates in cricket or maybe spelling bee. Vishwaraj's dream of representing India in Olympics couldn't have been achieved as roller skating isn't an Olympic sport.
"I had started cycling. Along with that I was preparing for Indian roller skating nationals. But then I crashed while cycling and suffered an injury. Put a stop on everything for a year. My father got apprehensive and we then decided maybe cycling wasn't the sport for me."
At the same time, his mother wanted him to study. So he chose to pursue engineering, but his love for skating was such that losing focus wasn't an option.
"My education has been very irregular. I dropped out of colleges. My schedule was such that I had to be on the rink at 6, and if I wasn't skating then, it just didn't feel right."
I was still wondering how Vishwaraj's move to Europe came about. He tells me he used to keep himself updated with the news about sports.
"With Olympics still on the back of my mind. I just knew Netherlands was a place to be. Last Winter Olympics they won 23 medals in speed skating. So, I asked my parents that I wanted to pursue computer sciences from Copenhagen – Denmark, which is very close to Netherlands."
He got in touch with the local roller skating club in Denmark. His Danish friends helped him get acquainted with the region. He talks about his first experience with skating time on Ice.
"One fine day, my friends told me about this race in Sweden. I borrowed skates from Henk, a friend, and participated. That was the first and last race I ever got disqualified. My ice skating blades weren't sharp."
Vishwaraj was studying in Denmark on student loans. He had started practicing hard, learnt to sharpen his blades. To cover up other expenses he juggled 2-3 jobs at a time. Delivering newspapers, working shifts at a bar.
"I remember this one incident, you know when you lose track of things because you're so engrossed but you're having the time of your life. I was working a night shift at the bar and got to know about a 10 Km race at one of the best tracks in Netherlands. The next thing I know I have cool breeze blowing on my face."
He needed a Dutch coach. Fortunately, this time he met a journalist who covered skaters specifically. Racers and the media were very excited that they had an Indian Ice Skater amidst them. Post a publication about him, Vishwaraj got in touch with three coaches. Since pronouncing his name was a challenge, Vishwaraj had become 'Vish'. He was taken in by Wim Nieuwenhuizen. Ice skating is very different from Roller skating. The rigorous training involves summer and winter training. Vish was ready to give it all.
"I started spending two weeks in Netherlands, two weeks in Denmark. But that is not how I wanted to do this. It wasn't that I didn't like studies but  I chose to be a good athlete instead of a bad engineer. I dropped out again."
When he first approached his coach, he lacked summer training but Wim accepted his request as he was crazy to do what it took. Vish has several districts, state and national records to his name in Roller skating and Ice Skating. He has broken numerous records over several distance categories.
Vishwaraj's dream to represent India in 2018 Winter Olympics is one that requires a lot of training, to build stamina, power-to-weight ratios, lung capacity et. al. by cross-training, cycling 8,000 km per year and training at an elevation of 1500-3000 metres.
In the words of Earl Warren,
"I always turn to the sports section first.  The sports page records people's accomplishments; the front page has nothing but man's failures."
We might get to see him make the headlines, competing against the Dutch contingent in 2018. If you'd like to help or support him, Vish is trying to raise money for his training on Ketto.
Asian Winter Games 2017, Sapporo, Japan: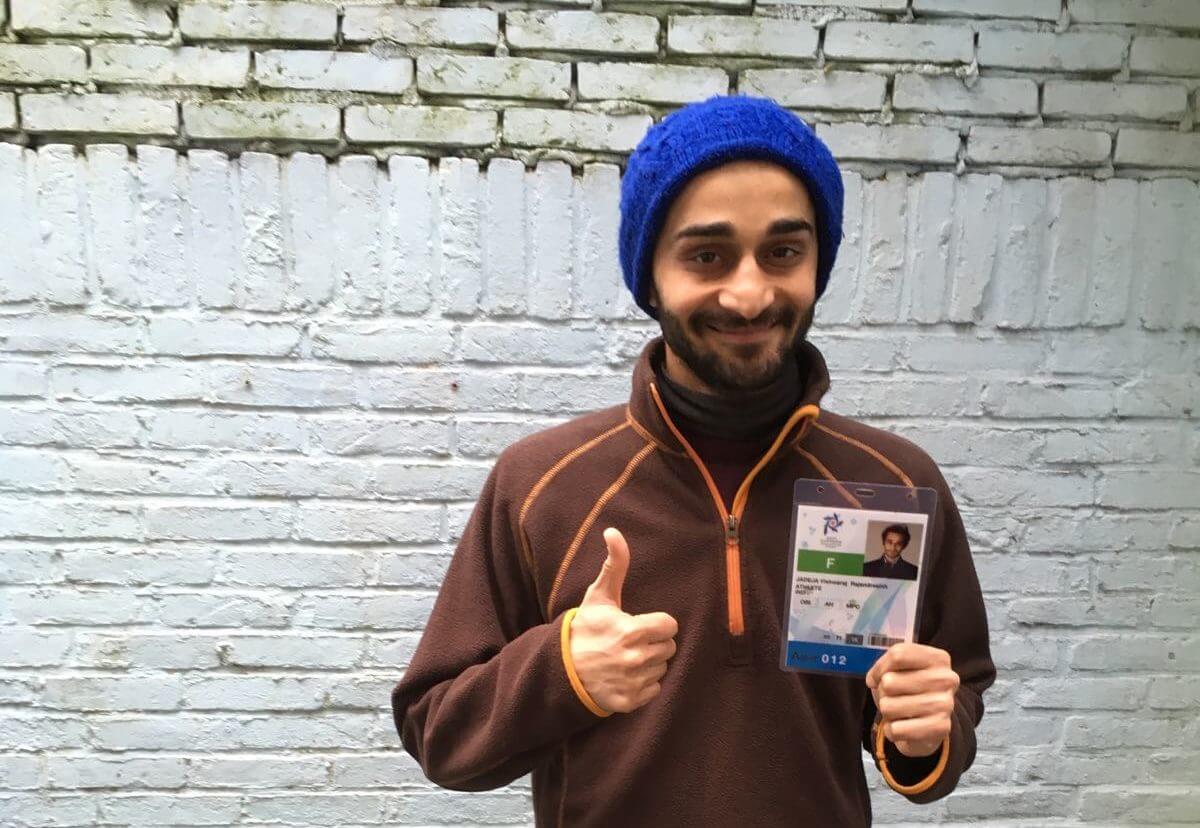 We're proud to announce update about Vishwaraj, who will now represent India at the Asian Winter Games in Sapporo, Japan 2017 this February!
Since we last spoke Vishwaraj has undergone rigorous winter training in hilly areas, weight training, and skating on Ice to up his game for the upcoming challenge. He underwent a lot of trouble collecting funds for his training.
"The total expense of my trip including equipment, flight, and my coach accompanying me there together was helped for by my family and well-wishers", says Vishwaraj.
He faced a lot of trouble to bring his coach along. But Vishwaraj has been blessed with well-wishers to have collected the required amount for the trip and will be in Japan in February. We hope you'll extend your support to him and help him represent his best in the games!
Bringing you independent, solution-oriented and well-researched stories takes us hundreds of hours each month, and years of skill-training that went behind. If our stories have inspired you or helped you in some way, please consider becoming our Supporter.