While scrolling through your social media, there are several thoughts that pop into our heads. Thoughts like these:
"Kya sundar dress hai yaar! I wish I could afford it too"
 "OMG He is in London! What is this fancy Irish coffee thing that he's having? Kya life hai."
"Yaar mujhe bhi travel karna hai! Na paisa hai na time hai"
We experience certain kind of emotions, don't we? It's a fleeting moment of feeling incomplete, dissatisfied and unhappy. What is this feeling? It is called FOMO, the Fear of Missing Out. This term was coined by Caterina Fake and became a go-to word for all the millennials who experience FOMO. The millennial generation is obsessed with the digital life with our eyes glued to the mobile phones 24*7. This basically means we are in constant touch with the lives of people who apparently have 'exciting' and 'fun' lives and that just makes us aware of our 'not so happening' lives.
FOMO also makes one feel super anxious that the rest of the world is having fun and you are missing out on it. Okay, let us dig deeper into it. Think about those times you had to miss out on an event or a party because of some other commitments. Maybe you missed out on a Coldplay concert because you were broke or could not attend your friend's birthday bash because you had to attend to your family. These are the times when FOMO creeps in and takes control of our emotions. It's a pretty insecure feeling, I know. There are also times, you just wanted to come home and sleep because you were super tired but instead still chose to attend the LIT party in town.
"LIT party hai bro, aja fata fat! Kaam baad mei kar lena."
"Kitna soyegi, I've heard the movie is really good. Uth ja! Let's go!"
Have you ever given into these reactions? Of course, you have. And even if you did not, you did check your insta/facebook/snapchat to check out the fun others were having and that made you so insecure and restless, right?
"Dude, yaaar chali hi jati!"
We need to ask ourselves some questions,
Are these things under my control?
Can I be everywhere?
Should I be everywhere?
Maybe our generation has forgotten to give time to ourselves. Maybe we have forgotten to be happy and live in the moment. How can we overcome the dreaded FOMO? This is when the term JOMO comes in. JOMO, the Joy of Missing Out means you don't care about doing everything or being present everywhere. Instead, you chose to enjoy the 'Here and Now' moment. The term was coined by a US blogger and tech entrepreneur Anil Dash, who made a conscious choice to cut down on socializing.  He decided to spend more time with his son and that gave him happiness and peace. In an interview, Dash urged the millennial generation to step off the hedonistic treadmill and think about what really made them happy.
Christina Cook, the author of Joy of Missing Out says,
"Following the herd blindly never results in satisfaction. We find joy and meaning in intentionally choosing our path, and walking forward confidently. If we are choosing to go online because we are motivated by the fear of missing out, we will never be able to stop."
Missing out on certain things in life lets you take control over your well being and shows that you are self-contained. So, how does one embrace JOMO and overcome the everyday hurdles- friends, parties, trips, eat outs?
Unplug  and Relax, maybe? Shutting down your mobile phones, laptops and breathe! Stay away from the social media distraction and take out time for yourself to do things that truly matter to you.
Reflect. Reflect on your life, talk to yourself about and try understanding yourself. In the hustle bustle of our daily lives, we rarely give time to ourselves and aren't able to judge what we really want from our lives.
Never forget to celebrate yourself. Whenever you decline an offer, you give time and energy to indulge in activities that you enjoy doing. It could be watching your favourite movie, reading a book, doing photography, cooking or anything that you love. Do you remember the last time you did that? Think about it. Stay in your pajamas all day, listen to your favourite music and relax!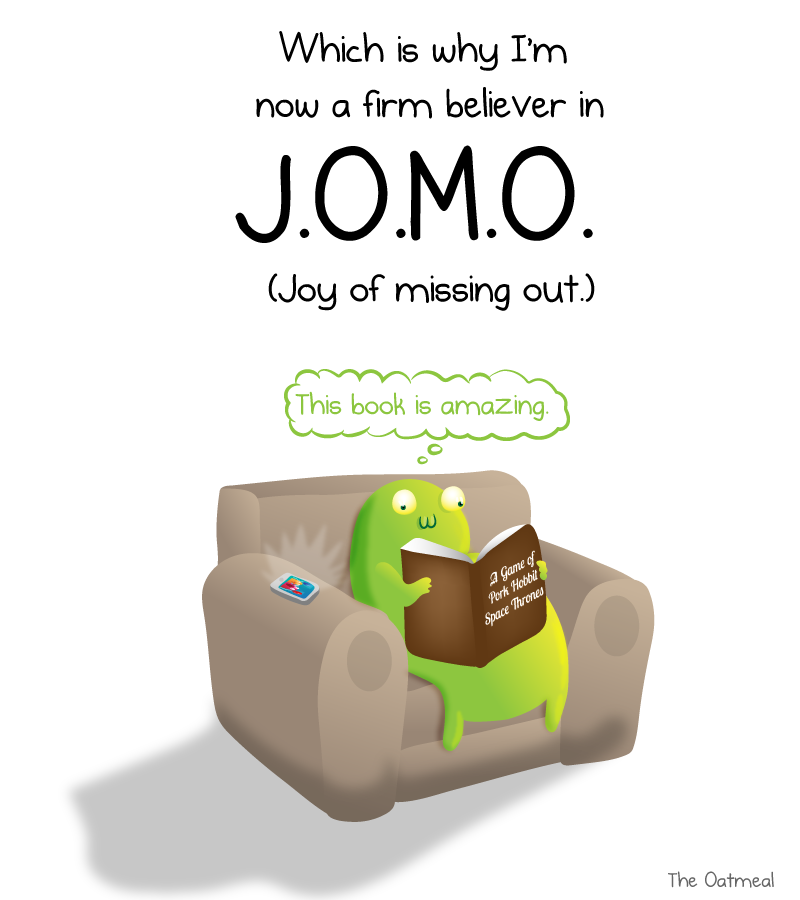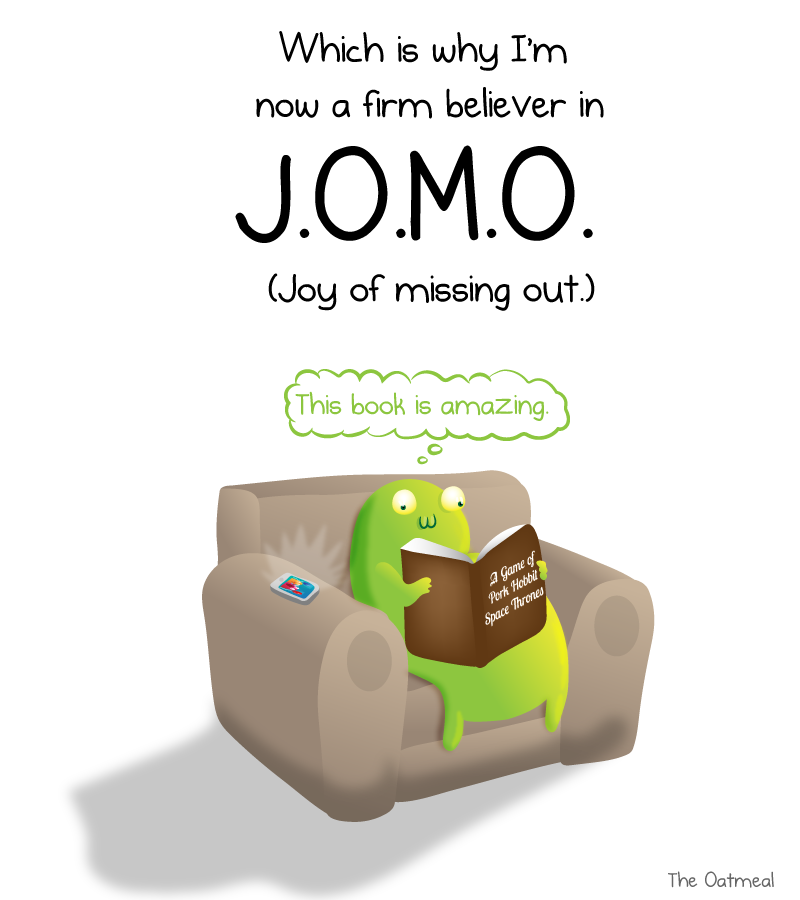 We are overfed, over exhausted and suffer from a social fatigue. Imagine yourself 20 years from now when you be looking back at your life. Will you be happy or will you regret certain things? Think.
By the way, FOMO makes you broke. A new study found that well over a third of people age 18 to 34 have spent too much money to keep up with their friends. Entrepreneurs are minting money because of our FOMO, just saying.
Remember: JOMO over FOMO any day.
Bringing you independent, solution-oriented and well-researched stories takes us hundreds of hours each month, and years of skill-training that went behind. If our stories have inspired you or helped you in some way, please consider becoming our Supporter.