"Every day is a new day. It is better to be lucky. But I would rather be exact. Then when luck comes you are ready." ~Ernest Hemingway, Old Man and The Sea
Moby Dick, Old Man and the Sea, Two years Before the Mast. Abhilash Tomy grew up reading books. Specifically ones with stories of seafarers and men of the sea. Indian Naval Officer, Commander Abhilash Tomy is the first Indian to complete an unassisted, non-stop, circumnavigation around the world.
"If you start reading from a young age, even you'd want to visit the sea."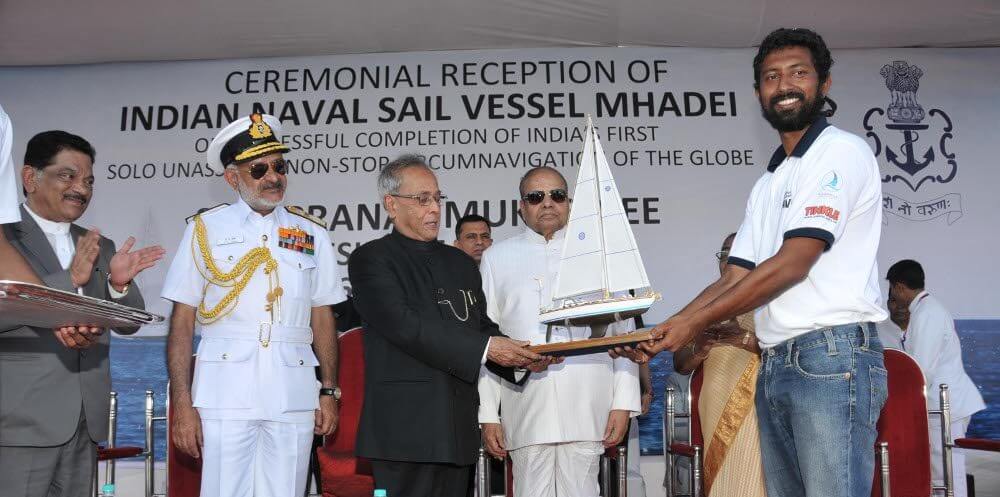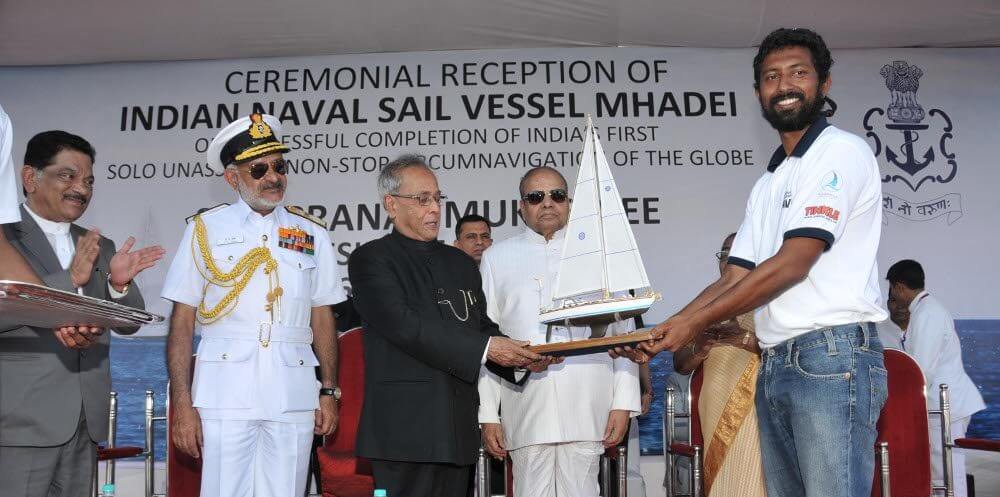 National Maritime Day
The National Maritime Day is observed to mark the day when SS Loyalty the first ship of Scindia Steam Navigation Company set sail to the United Kingdom. The first large-scale shipping company owned entirely 3 by Indian businessmen, from Gujarat. Post independence the Indian Navy, shipping, and maritime activities increased at a rapid rate marking the change. Commander Tomy is a huge testament to the same, who completed a solo voyage on 6th April 2013.
Sailing the Gulf of Aden
Sir C V Raman's Son, Venkatraman Radhakrishnan, invited Abhilash to sail from Oman to Yemen on his yacht.
"I puked on the boat, and I was asked if I wanted to stop and get off the boat at a stop. When we did stop, they were short of crew, so they asked me to come along. But when I boarded again I was feeling okay."
5 percent of people in this world will never become sea sick. 5 percent will never overcome being sea sick. But 90 percent of people will eventually get used to it and overcome the feeling.
Mhadei and Cdr. Abhilash Tomy
"My daily cycle was connected to the cycle of the Sun. I couldn't spend a lot of electricity working at night. Make something to eat. Cook. Study the weather report that came at 7, then service the boat, see if there are cracks on the boat or check the autopilot etc. Then came the second weather report in the evening, and preparation for the night began."
He volunteered for the expedition, Sagarparikrama II with INSV Mhadei.
"The best part of the voyage? I was alone. I enjoyed sailing alone. I had never been on the sea, not like this. The entire journey was an exhilarating experience. So, you ask me if I would do it again, 101 percent yes!"
The blue waters are full of mystery and unexpected surprises. Some of them are a struggle and some are a view into the heaven. But for Commander Tomy, it was and still is an experience he cherishes to his heart's content.
"The first storm hit near Cape  Leeuwin of Australia. It started at night. We (Mhadei, the ship and I) couldn't see it, we could only hear it. Until sunlight, I was very apprehensive to what it would look like for us (Mhadei and me)."

"But when I saw the sea, furious sea, huge waves, ocean white with foam, mountains of water, I realized I was seeing the real sea for the first time."
The voyage apart from the experience as a seafarer was a journey of self, the lessons about life, about who he truly was, came as he completed his 151-day tryst with the sea.
"It helped me discard a lot of things. I didn't have air conditioning or heating. Almost 90 percent of the days I slept on a bed that was completely wet, the water dripping on my eyes while I was sleeping."
Not being able to bathe as the temperatures were too low. Cooking, sometimes using seawater. Conditions were such that when he boarded the Mhadei he weighed 86 kgs and about 74 when he completed the expedition. Since he used a lot of upper body strength to perform the tasks at the ship, his upper body got stronger, but lower body got weaker. At the completion of his voyage, he had to be carried from the ship. But his learnings from the sea were far from over.
"I really wanted to know what it would be like to come back. There was no fresh food or refrigerator; I questioned if was I going to suffer from a lot of cravings when I come back. But when I came back, I had lost all cravings. You lose attachment to these things."
When you're out there in the world, working, talking to people, reading, thinking of the next task, but what this undertaking did for Abhilash is in his words
"It gives you time to contemplate, things start clearing for what you are, for who you are. For instance, the mode of transport is confused the man's ego. The bigger it is, means I am more capable, I'm a bigger person. But at the end of the day, it takes you from one place to another."
The journey has brought a lot of positive response. One of the offshoots of the expedition is that the Navy has sent an all women crew on Mhadei.
Update:
Abhilash Tomy was competing in the Golden Globe Race – a 30,000-mile solo journey without the aid of modern technology – when a huge storm rolled his boat 360 degrees, cracking both masts and leaving him with a serious back injury.
Tomy was traced by the Indian Navy Reconnaissance aircraft and was rescued by French vessel Osiris on 24th September 2018.
***
Do you think you have a story or came across one that could inspire several out there? Email us on contact@chaaipani.com or join us on Facebook, Instagram(@chaaipani) and Twitter (@chaaipani). To get inspiring stories on WhatsApp, just drop your number here. Don't forget to subscribe to our strictly no-spam e-mail newsletter to brighten up your inbox!
Bringing you independent, solution-oriented and well-researched stories takes us hundreds of hours each month, and years of skill-training that went behind. If our stories have inspired you or helped you in some way, please consider becoming our Supporter.