Start a conversation about the inclusion of differently-abled with Disabilities Inclusion Act that replaced the 1993's Disabilities Services Act, and there have been amazing efforts by people and organizations alike. For instance just last week, I was out with a friend visiting a food joint which has all the boys behind the counter but one, who had a hearing impairment, taking our orders. The feeling of communicating with them because I knew sign language, was amazing!
That being said, we couldn't help but keep Mr. Harry Boniface Prabhu, a professional quadriplegic world champion, out of the conversation. A Padma Shri awardee, Boniface came to Ahmedabad, on his journey to spread awareness and love with whoever he meets. I was instantly impressed by his undying spirit to keep looking up even while he's atop the mountain. 
(For readers: Quadriplegia is a condition in which the person has dysfunctionality of all four limbs and torso.)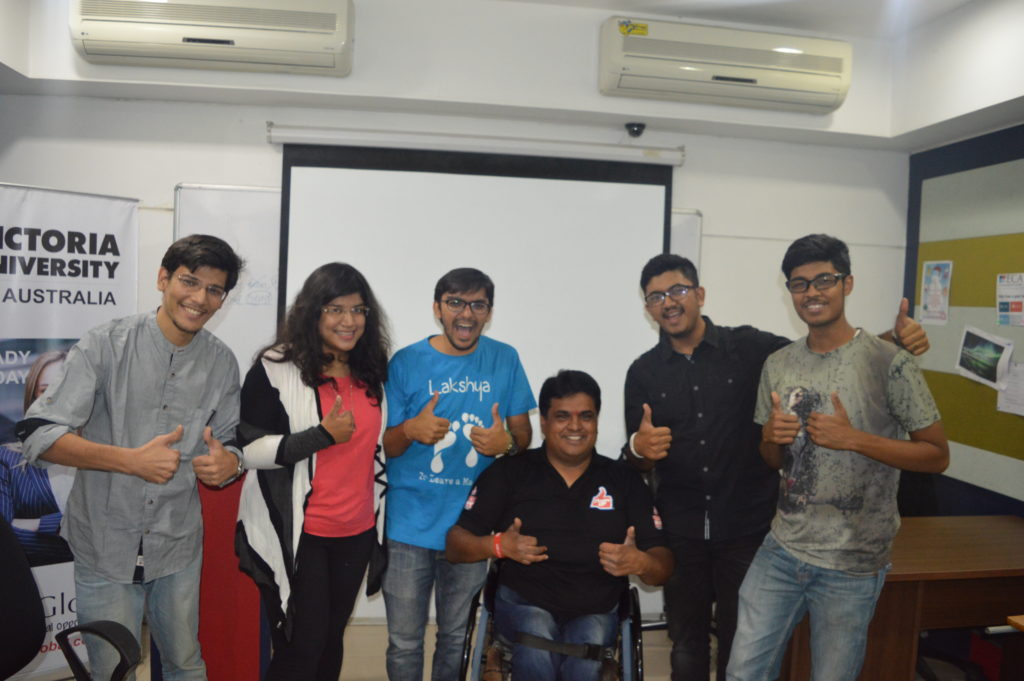 Quite recently, Ahmedabad played host to Boniface. In course of his mission to make India Accessible, he has taken a road expedition from Kashmir to Kanyakumari, a 3500 KM journey to meet and spread awareness towards the cause of PWDs (Persons with Disability). When the ThumpsUp VEER K2K car arrived at the venue, where I was supposed to meet him, I was trying to look for him in the backseat of the car, when Boniface was the one driving! The car had been modified to suit his driving requirements. Dhaval from AIESEC who was helping coordinate with the team informed me that Boniface took over driving from Delhi and was going to complete the entire journey to Kanyakumari and then back to Bangalore.
"Since schools weren't accessible because the classrooms were at higher floors, I was home-schooled", says Boniface.
Boniface Prabhu was born in Bangalore. He fell ill when he was young and suffered quadriplegia from a lumbar puncture gone wrong due to inexperienced doctors. He completed his 10th grade and enrolled in a Computer Diploma. He used to play all kinds of sports, Football, Cricket, or Hockey, as a wicketkeeper. But there was one particular stride he took which turned the tides on how the world perceived him.
Boniface used to lead his institution's tennis ball cricket team when his institution got an invitation to play in a Samaj's tournament.
"One of my instructors told us there was a Samajam organizing a cricket tournament and asked the class at large, 'Who would like to represent us?'. I raised my hand and he said, 'Boniface it's cricket you know, Cricket' (moving the hand in the motion of a bat)."
Undeterred, Boniface made a team.
The entry fee was Rs. 110, so he collected 10 from each of his teammates. This match was when Boniface and his team tasted victory. To his instructor's disbelief, they won! On his instructor's advice, Boniface started playing Paralympic sports.
"I started with Javelin, Shot put, carrom, and Discus throw. There was a nationals happening in Dharwad, Karnataka. For the first time I was sitting on a wheelchair, I never had one before that. I borrowed it from friends who had come on from other parts of the state."
He was holding a 6 kilo shot put for the first time then. There were about 5 contenders in his category. But Boniface won a bronze and a gold in Wheelchair Carrom!
"I saw an article about me in one of the local Kannada newspapers. I was feeling so great! All my friends and family were so proud."
Boniface then went on to see nationals in Bombay, where he saw 6700 people from across the country and that year he was lauded to be the best overall athlete, winning gold in Shot put, Discus, Javelin!! Which made me ask him as to how a quadriplegic Boniface was able to pull off such commendable feats.
"My daddy was a bodybuilder. He prepared a home gymnasium for me, where he could tie me up as I couldn't hold thing's firm. He had a done a lot of work with me before I went to Mumbai's nationals."
He was selected for the world games, the pioneers of paralympic games, in Stoke Mandeville. He started his Tennis career after he participated in the World Wheelchair Athletic games. A professional career that won him 11 titles and he reached all grand slam finals!
"Whenever I speak to PWD community or even youth in general, I always tell them, play a sport. Its the best form of rehabilitation."
Apart from giving you the added energy and a sense of purpose. I think any kind of sporting activity represented on national platform gives us, the citizens, a reason to unite for a cause. This year's Paralympics was a testament to the same.
Nearing the end of our conversation, Boniface left a message for everyone,
"Always chase your dreams. There is Swedish saying which goes like, 'Those who wish to sing, always find a song'."
Much like Boniface is doing right now. He started his journey on 10th of November, a 30-day journey where he will be meeting, spreading awareness and sensitizing people towards PWDs. He has also taken up the task to promote and spread the use of sign language through this journey. Coca cola along with Times Now, Indian Oil and Hans foundation are supporting the cause.
Bringing you independent, solution-oriented and well-researched stories takes us hundreds of hours each month, and years of skill-training that went behind. If our stories have inspired you or helped you in some way, please consider becoming our Supporter.