What you see on the surface is a restless, confused child but dig a little deeper and you will find a young man hungry for knowledge and zealous to bring about a change. That is Ayush Jaiswal for you.

From being a social activist to dropping out of engineering college to start his own venture, he has done it all in a bid to quench his thirst for being a successful entrepreneur. As he talks to me, he is all excited to share his story.

Ayush hails from the quaint town of Varanasi where he did his schooling from Sunbeam School, Lahartara. In his own words, he has always been a nerd.
"I learned to program in the 3rd grade and was really fascinated with technology since childhood."
Academics never being his strong suit or interest, he was mostly seen outside the classroom but not wasting his time. He extensively participated in extracurricular activities like public speaking and coding. He used to go for all kinds of competitions during his school days and won laurels for his alma mater.
"I feel very blessed to have graduated from this school because of the values I learned from my teachers and huge opportunities that I got here."
Due to his high interest in technology, he opted for engineering. "I saw what impact technology can have on lives and I got really excited about doing something in technology. That is also the reason I joined KIET for B.Tech."
But soon after he dropped out as he was more inclined to work and make a difference.
"I decided to drop out and focus completely on my startups because I rarely went to college except for the exams anyway."

Winning all those competitions at school gave him the confidence to start his own company and thus started the journey of an entrepreneur, a rather naïve startup enthusiast who just knew his work and nothing else.
Ups and Downs
Quitting college and working on your startup might look like a typical successful startup story but success is anything but typical. For a project at Miranda House college of the University of Delhi, he faced failure for the first time. Despite cracking the interview he didn't get it because "I didn't have the funds or right legal knowledge for it." That was the lowest point for Ayush. He had gotten all his friends working for him for the project and when it didn't happen it was a huge setback for him.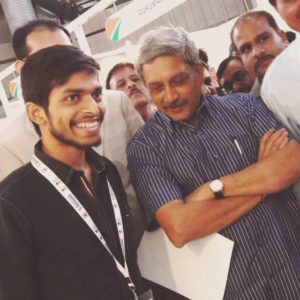 "I felt that I had let down all my friends. I almost went into a depression. That was the time I had actually faced failure and I couldn't take it."
Few months after wallowing he got back up and collected his thoughts.

"I realized that there would be more people like me who would have faced failure. I thought let's help them. What I did next was, start a venture that would provide 360 degree support to startups like legal support, technical support, working space etc. and will give it to entrepreneurs in lieu of equity."

After that, he worked at various companies for short durations to learn the core skill like branding and marketing, business development, analytics. "I worked for free and worked 14-18 hours a day for them. I was hungry to learn and acquire skills that I won't be able to otherwise in a normal 9-5 job."
In between, he met Vinod Sood, Managing Director at Hughes Systique. Vinod has been a mentor to Ritesh Agarwal of Oyo Rooms and Ayush approached him to be his mentee.
"Vinod sir has helped me a lot in weaning my idea and giving it the final shape. He suggested that we should help startups only financially and not try to help them with everything. It was under his guidance that Crowdignitor was born."
It is interesting to know that Ayush pinged Vinod Sood on Facebook Messenger for the first time and asked him to be his mentor.
"I responded back. Sure, I will try and help in whatever way I can. After that for a couple of months, there was no response from his side and I too had forgotten but then one day I got a message and since then we have been in touch. The first time I saw him, I saw a young boy who was looked like an 18 year something. When he told me about his idea which was about building a peer-to-peer lending platform I thought that was something which is beyond his age, something which is far complex for a youngster who had not even completed engineering could think of. I tried dissuading him by sending him some articles etc. which had appeared in the media around this space and also the regulatory issues in this domain. However, I was pleasantly surprised when I found that instead of getting dissuaded or demotivated he had answers and justification for what he was doing. I was very impressed with his clarity of thought, the immense homework he had done in this space and his passion and commitment", says Vinod Sood.

Since then Vinod Sood has been his mentor and guide for his venture CrowdIgnitor – a FinTech startup which is based on crowd-sourcing of Finance. It is a unique venture wherein they provide 5 flexible ways of borrowing and lending money for startups and investors respectively. "We also give an opportunity to middle-class to invest in different fields depending upon their budget to plan their retirement," Ayush added.

But this is not all. Ayush has more feathers in his hat. He also went on to become a motivational speaker wherein he visits colleges and educational institutions and talks to the students on how important those 3-4 years are for them.
"I want them to realize that they can become whatever they want to and that these few years are really important for them. All they need is some direction and focus."
Bringing you independent, solution-oriented and well-researched stories takes us hundreds of hours each month, and years of skill-training that went behind. If our stories have inspired you or helped you in some way, please consider becoming our Supporter.