This post is a part of Neer, a collaborative project by DCB Bank and Chaaipani to bring out stories of individuals and initiatives that are working hard and smart to save water.
Okay. Relax, take a seat, and listen to the voice in your head while you read this. It's important that you do. You must know about Global Warming and Climate Change conversations, debates, summits happening more often than not, especially of late, even if you've been living under a rock. Last year in 2016, representatives from 195 countries attended a conference on Climate change in Paris, where till date 144 countries have ratified the agreement to bring change and hold the rise in temperature below 2° C.
Why do you ask? Last year the highest temperature during summers crossed 50° C! That's half the boiling point! For a lot of us it won't matter what is happening to the environment of this planet, trust me, I am just being realistic. We'll sail through our life using some means or the other. But the coming generation will live in an apocalyptic world or uncertain hot or cold temperatures, arid or flood lands, and polluted air et. al.
Jungli — The good kind
There is a man who tried to work towards finding a solution to a problem at home, all the while thinking he was helping his village, but stumbled upon a simple answer. The name of this man is Jagat Singh Chaudhary, or as people laud him, Jungli. This is his story. Who is this man? What is the answer? Why is he called Jungli?
Women, Fodder, and Jungle
Mr. Chaudhary was born on 10.12.1950 in Kot Malla, Rudraprayag, Uttarakhand. He completed his education and joined the army in 1968. In the year 1974 when he came back to his village in a break, he saw a woman who fell she was on her way to collect fodder from a far off forest. He thought of using the land he had inherited land to grow a forest with various flora instead of monoculture crop. He started growing them in breaks every year whenever he came back to his village.
When I came back home permanently to the village, the forest became a part of my daily routine.
Looking at his forest(Jungle) flourish in light of multi-culture plantation, other farmers of the village planted trees in their fields too. In 1993 when he was lauded by the name Jungli in a Government college to give a seminar for converting 1.5 hectare of land into a forest.
My wife got really upset when I was given the commemorated with the title of 'Jungli'. She didn't have food for 3–4 days, worried about my image and my kids future. But as you know, it was taken very positively, and i'm proud to be known as Jungli.
Jungli and Global Warming
Today, even his son Dev has joined his father to further the cause of the forest they have built. He pursued education in environmental sciences and is helping his father in a more scientific manner.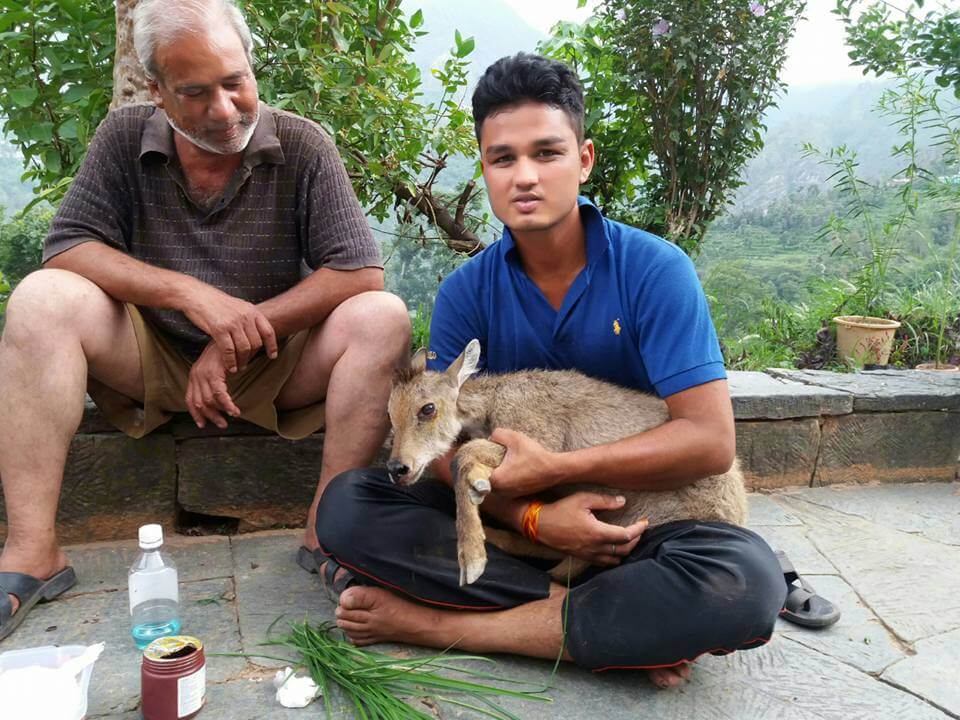 I believe climate change has less to do with us, my generation or even my son's, but the coming generation is going to face repercussions of the current climate change. What are we leaving for them? A wrecked planet?
He started building this Jungle when there was conversation was at its bare minimum on climate change, to help his village but ended up finding a solution to global climate change.
My next plan is to further what I've built and come up with something that can save Jal-Zameen-Jeevan-Jungle (Water-Land-Life-Forest) for the future generations.
Here's a short video we found about him in his Jungle in Kot Malla by TimesNow.
One Day, One Room
What can we do? We don't have a farm or land.
These days wherever I visit to speak to people, I tell them to do their bit however small it may seem. I understand people don't have land, but they have rooms, turn your rooms into green room, provide for your own oxygen.
According to his extensive work and years of experience, Jungli recommends to pot plants like, Shyam, Rama, and Vana Tulsi along with Lemongrass and Peppermint will help keep away a lot of ailments.
I urge the everyone, especially the younger generation to take the matter into their own hands and start working towards this. Although rally, seminars, and speeches seem a good way to encourage others, but the real work begins with your action.
Hat tip to NASA to give a list of plants which can be used as natural Air Purifiers. Here's the list from Clean Air Study Project by NASA.
Do you think you have a story or came across one that could inspire several out there? Email us on contact@chaaipani.com or join us on Facebook, Instagram(@chaaipani) and Twitter (@chaaipani). To get inspiring stories on WhatsApp, just drop your number here. Don't forget to subscribe to our strictly no-spam e-mail newsletter to brighten up your inbox!
Bringing you independent, solution-oriented and well-researched stories takes us hundreds of hours each month, and years of skill-training that went behind. If our stories have inspired you or helped you in some way, please consider becoming our Supporter.