Chinese conservationists have mastered the
art
of panda breeding, building a hundreds-strong captive population – using sex toys and Viagra to encourage copulation.
Over the last 25 years the East Asian nation has also been working hard to restore and protect natural bear habitats, and as a result, have started introducing captive-bred bears into the wild.
There are now 67 bamboo-rich nature reserves in the overgrown forests of southwestern China, where two-thirds of the world's panda population are expected to roam free.
Reintroducing pandas to the wild has been no simple task, however. Most have spent their lives in a zoo and must now re-learn how to fend for themselves.
Training the bears to live on their own will inevitably "take trial and error, time and money," Smithsonian ecologist William McShea tells National Geographic.
Keepers wearing full-body panda suits scented with panda urine train selected cubs to live in the wild at the Hetaoping panda base in the Wolong Nature Reserve.
Over a two-year period the young bears live with their mothers before moving to a fenced habitat in the mountains where it can still be looked-after.
Once deemed fit for freedom these youngsters are released into the surrounding area.
Those who make it into the wild must be cautious of other animals (including humans) and capable of finding food and shelter unaided, explains Zhang Hemin, director of the Center for the Giant Panda.
Hemin (also known as Panda Papa) said: "I've had two important jobs in my life so far. To get pandas breeding, which is now no problem [and] to make sure there's good habitat to put pandas in."
"The ultimate goal is to release, release, release"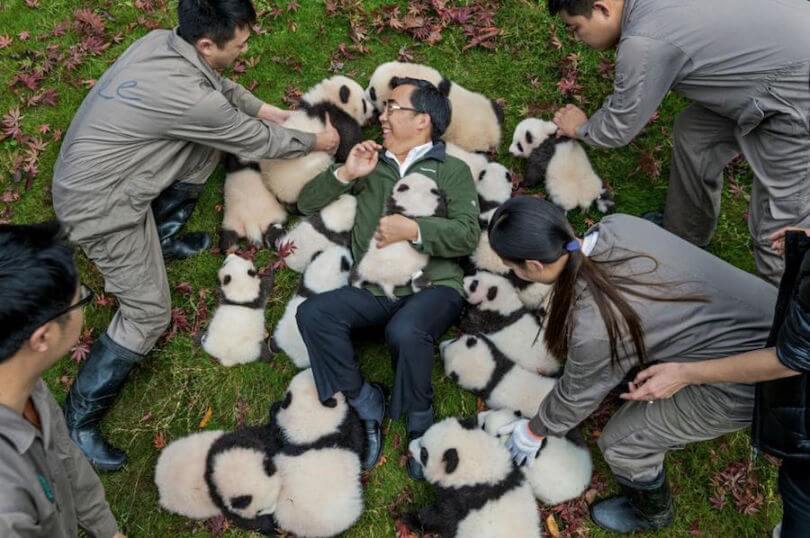 Unfortunately, not all will make it – from the five released since 2006 (all wearing tracking collars) only three are still alive.
Hua Jiao is one of the female cubs released in mid-November who is said to be doing well.
In a few years, she may seek out a partner and could potentially add five more cubs to the population, an incredible feat for an endangered species on less than 2,000 worldwide.
"The recovery of the panda shows that when science, political will and engagement of local communities come together, we can save wildlife and also improve biodiversity."
In this cute af video released by National Geographic, Papa Panda, Director of the China Conservation and research center for the Giant Pana, shares about what it is like to raise a Panda, and his plans to make them self-dependent.
Bringing you independent, solution-oriented and well-researched stories takes us hundreds of hours each month, and years of skill-training that went behind. If our stories have inspired you or helped you in some way, please consider becoming our Supporter.