This police couple marries minus all the pomp; donates saved money to charity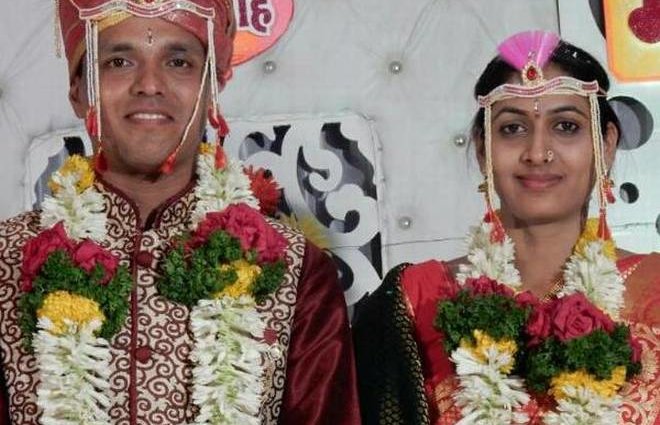 Posted On : May 13th, 2017
Reading Time : 1 minute
Police couple from Mumbai ditches big-fat-Indian-wedding.
"Manoj called me two days after he visited my house with his family, and asked to meet. Curious, I agreed. I was left astonished by what he told me as I, too, have grown up seeing lavish weddings. He left it to me to decide how our wedding should be, and when I put the idea to my family, they liked it too," says Ms. Laykar, a newly married cop who decided to drop all the pomp for their wedding.
Meet Manoj Patil, a Police Sub-Inspector @ Marine Drive police station and Sarita Laykar, a Police Sub-inspector @ Sangli. This cop couple has raised the bar by opting for a low-key wedding for good!
All things bright and beautiful
The couple that met in an arranged marriage designed wedding for everything good!
Guests received a plan as return gift and were requested to plan it wherever they could. The couple donated money to initiatives listed below:
Naam Foundation – Initiative that works with farmers and families of martyred defense personnel.
A high school in Dewle village.
Gram Panchayat's Canal Project.
Hanuman temple.
Public Library in Patne village, Kolhapur.
The couple says they are yet left with some amount that they are looking to donate to development activities.
PSI Patil also stood strong against no-dowry, which was welcomed by the Laykar family, given that most Maratha families believe in giving and accepting dowry as a norm.
"I have three older sisters, and I have seen ow much effort my parents put in for their weddings. I was clear that my wedding would neither be lavish nor would it involve dowry. My father, a retired serviceman, supported me", says Patil.
Commenting on this, Joint Commissioner of Police (Law and Order) Deven Bharti said,
"It is heartening to see our young officers breaking free of age-old practices and thinking about society even in an important decision like marriage. We hope their actions will inspire others to act in a similar manner so that we can hope to leave the world a better place for our future generations."