This post is a part of Neer, a collaborative project by DCB Bank and Chaaipani to bring out stories of individuals and initiatives that are working hard and smart to save water.
1200 apartments, 5000 residents, 24×7 water supply, a tanker free residency, plants watered through drip irrigation, minimum consumption of water by flush tanks, borewell water that has a hardness of just 250 dH, 3000 trees planted within the society, 92,000 units of electricity saved in a year, a tangible direct saving of Rs. 103,390 in energy expenses this year and much, much more.
Did your jaws just drop? Well mine did! Welcome to Roseland Cooperative Housing Society situated in Pimple Saudagar in Pune, Maharashtra. The society is one of the most sought after complexes in Pimple Saudagar.  The residents believe in living a lifestyle that is sustainable and also one that benefits themselves and the people around them.  For this, they work together efficiently throughout the year in setting up environment and community friendly practices.  They have realised how precious resources like water and electricity are and since 2009, have come up with all sorts of innovative ideas, events and projects.
It all started in 2009 under the active leadership and guidance of Mr. Santosh Maskar, the chairman of the Residency.  A native of Bhoom, a town in Osmanabad District in Maharashtra, Santosh spent his childhood in the farms and fields owned and taken care of by his family in the village.  He has always been very enthusiastic about doing things in a way that benefits the environment and the community.   Santosh and his family have been staying in Roseland Residency since 2006.  This Co- founder and Director of Sarvaha Systems Pvt. Ltd. is a true visionary who believes in teamwork.  He along with his team of ten people that comprises the Managing Committee members and the residents work together and brainstorm to come up with solutions and practices to various problems.  They believe that for a sustainable living the solution lies within.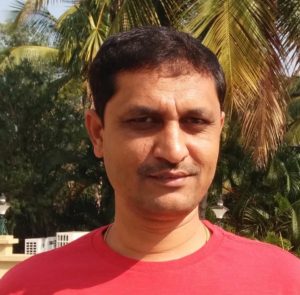 Mr. Santosh Maskar
Since he moved into Roseland Residency, for almost three years, there have been absolutely no issues regarding water supply in the housing society.   In 2009, when the number of people in the Residency increased, the residents faced a water shortage.  Two to three times a day water supply dropped down to once a-day.  The immediate and short term remedy was to store water which they couldn't do for long and decided to do something about it.
Santosh thought of rain water harvesting in the society, a method that was being practised on his village farm.  There was an open plot in the society where he and his team decided to implement it as a pilot project.  The water from the terrace was collected and given to the borewell where it was recharged.  This was done for one borewell at first.  Following success in this pilot project, it was soon rolled out for the other borewells.  6 borewells were recharged and now the society plans on doing the same for all its 21 borewells!  This remarkable feat has made the society 'tanker- free' since 2010.  What's more? The water is available 24×7 throughout the year and its hardness keeps decreasing.  Right now the water has a hardness of about 250 dH which will become 100 in the next three to four years.  Once it reaches 80 dH it will be fit for drinking. This method has saved the society close to 20 lakhs Rupees which would otherwise be utilised to develop methods to provide regular water to its residents.
Roseland society has since been encouraging the neighbouring societies to adopt rain water harvesting as well.
The Managing Committee
Apart from this, there are numerous other projects that have been implemented in the water conservation front by the society.   In an attempt to save water that is lost through flushes, the society decided to collect plastic bottles and fit them into the flush tanks.  This method saved about 1 litre of water that is lost per flush.
Another initiative was to reduce the flow of water through water taps by installing faucets.  This method has been adopted in all the apartments.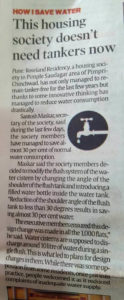 Various posters are also displayed from time to time throughout the society to encourage and remind residents of their duty towards the community.  About 20 to 30 per cent of people stay on rental basis and the new residents are always encouraged to join in and contribute.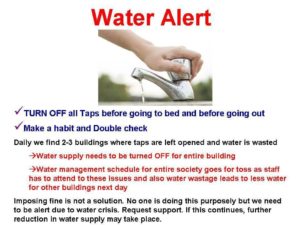 Water conservation is just a part of the numerous activities that have been going on in this dream society.  In fact an entire book can be written about how this society comes together, brainstorms and implements everything successfully.
Sparrow conservation, recycling bicycles, plantation drives, marathons, cycling contests, clothes collection drives, waste segregation, yoga sessions are just a few to name.  Recently the society organised The Rubik's Cube Open Competition which was approved by the World Cube Association.  For their constant efforts the society has been recognised and presented with several awards in the past.
Roseland Society has been awarded The Green Society award by Radio City in Pune.  400 societies across Pune were visited and Roseland emerged the winners.
MEDA (Maharashtra Energy Development Agency) did an audit and awarded the society for its efforts to save water and conserve electricity.
Wipro in coordination with Nature forever awarded the society for its Sparrow Conservation project.
Asked how the society keeps themselves motivated, Santosh said "We all work as a team and are very passionate about what we believe in.  We strive to be different from other people and think about new ways every day.  We follow one system – discuss, brainstorm, get people's opinion and then implement.  Once it's approved we go ahead with a pilot project which takes around two years for its successful implementation."
Asked if he has a message for people today he says "It takes time to realise that we need to develop ideas not only for us today but also in a manner that is sustainable for the next generation".
We wish all the luck to Roseland Residency and hope and pray that their efforts are a source of motivation not only to the people around them but also for the generations to come!
Do you think you have a story that could inspire several out there? Email us on contact@chaaipani.com, or join us on Facebook and Twitter (@chaaipani). To get inspiring stories on WhatsApp, just send 'Hello' to 07016002649 via WhatsApp. Don't forget to subscribe to our strictly no-spam e-mail newsletter to brighten up your inbox!
Bringing you independent, solution-oriented and well-researched stories takes us hundreds of hours each month, and years of skill-training that went behind. If our stories have inspired you or helped you in some way, please consider becoming our Supporter.