Srinivasa Ramanujan Iyengar is perhaps one of the greatest mathematicians of his age.  He carved out some exceptional theorems and theories in his life of 32 years.  Sadly this great genius from India passed away young after making remarkable contributions to the world.  G.H Hardy, an English mathematician whom he worked with described him as a natural mathematical genius.  From the Vedic times to the Modern Era, India has seen the birth of great personalities. When one thinks about the invention of zero, Brahmagupta comes to our mind, similarly, Aryabhatta is best known for his work on the place value system.
Ramanujan is known for his work on elliptic functions, infinite series, the Hardy- Ramanujan- Littlewood circle method, partial sums and more. 
Born on December 22 1887 in Erode, Tamil Nadu, Ramanujan's father was a clerk in a sari shop and his mother was a housewife. Their family house was in Kumbakonam which is a museum today.
In India his birthday is celebrated as National Mathematics Day and in Tamil Nadu his birthday is celebrated as State IT Day.
He died at the young age of 32, after being diagnosed with tuberculosis.
Ramanujan was a child prodigy.  Before the age of 10, he passed his primary examination in English, Tamil, geography, and arithmetic scoring the best marks in the entire district.  At the age of 13, he had completely comprehended the book 'Advanced Trigonometry' written by S. L. Lonely and later discovered advanced theorems by himself.
He was an orthodox Hindu and believed that his family goddess Mahalakshmi of Namakkal blessed him with his sharpness.  He said,
"An equation means nothing to me unless it expresses a thought of God".
Ramanujan received the K. Ranganatha Rao prize for mathematics when he graduated from Town Higher Secondary School and also received a scholarship from the Government Arts College in Kumbakonam.  He was so obsessed with mathematics that he failed his other subjects and eventually lost his scholarship.
He belonged to an era when the paper was expensive and used to jot down his findings and derivations on a 'slate'.
By the age of 18, he ran away from home and his mother had to send a missing-person letter to the newspaper. By this time he moved to Madras and shifted different colleges and continued his maths research independently.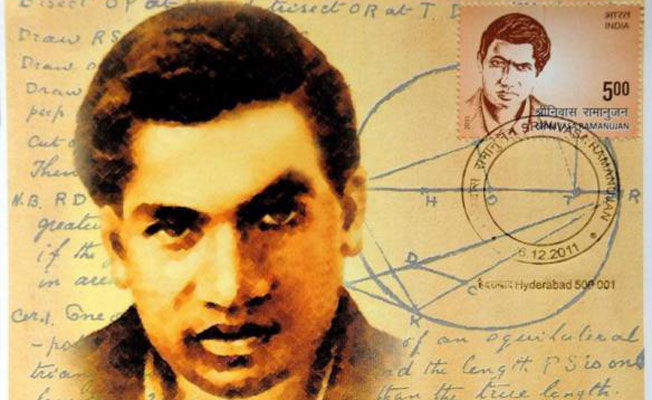 At the age of 22, he married Janakiammal who was 10 years of age.  The two started living together after three years of marriage.
There is a journal called The Ramanujan Journal named after him.  It is an international journal that was reviewed by his peers and devoted to the areas of mathematics influenced by Ramanujan.
Ramaswami Iyer, the founding member of the Indian Mathematical Society helped Ramanujan get his work published in the Journal of Indian Mathematical Society.
Ramanujan was impressed with G.H Hardy's book Orders of Infinity and wrote a letter to the renowned English mathematician who later on became his mentor and brought him to England.  At the age of 31, he became a Fellow of the Royal Society.  He was the youngest fellow in the history of the Royal Society for his investigation in Elliptic function and the Theory of Numbers.
After spending five years in Cambridge University he was awarded a Ph.D. in mathematics.
Throughout his life, he suffered from health problems and finally suffered from tuberculosis and vitamin deficiency.  His health was so poor that despite medical treatment he breathed his last on April 6, 1920.
The British film 'The Man Who Knew Infinity' was about him and is based on the book under the same name by author Robert Kanigel.  The movie received worldwide acclamation.
Cover Image features actor Dev Patel who played the role of Mathematician Ramanujan in the movie – The Man Who Knew Infinity
Join us on Facebook and Twitter (@chaaipani). To get more inspiring, motivating stories on WhatsApp, just drop your number here.
Bringing you independent, solution-oriented and well-researched stories takes us hundreds of hours each month, and years of skill-training that went behind. If our stories have inspired you or helped you in some way, please consider becoming our Supporter.