News of a child from Ryan International School, Gurgaon being sexually assaulted and killed, has once again put India to shock and shame. We are yet not sure about who to blame – the school for negligence in ensuring child safety, or increasingly deteriorating psyche of criminals. The parents of children are worried on where and with whom to consider their child safe.
National statistics state that about 53% children in India are abused. The highest number of cases were reported in Uttar Pradesh, Assam, Delhi, Andhra Pradesh and Bihar.
Abuse is often the beginning of the series of crime against the child. A little bit of sensitivity by you towards children around you can save a child from abuse and eventual murder to silence the voice.
Identifying and Reporting Child Abuse
We read stories of children falling prey to abuse of different kinds. Statistics state that about 53% of children are abused. Most cases never get reported because:
a) Physically hitting a child by a parent or a teacher is considered normal in India, and no one really cares enough to report it.
b) Children are reluctant to confide in anyone. Sometimes, this is also a result of lack of education against abuse.
"52.91% of boys and 47.09 % of girls reported having been abused in their family environment. Of the children who were abused in family situations, 88.6% were abused by their parents."

"The study examined two forms of emotional abuse: humiliation and comparison. Half the children reported facing emotional abuse with 83% of that abuse begin conducted by parents"
There are many more reasons, but the case in point remains – not every bruise is a result of playing. And it remains the responsibility of us as a society to be sensitive to child abuse and reporting it.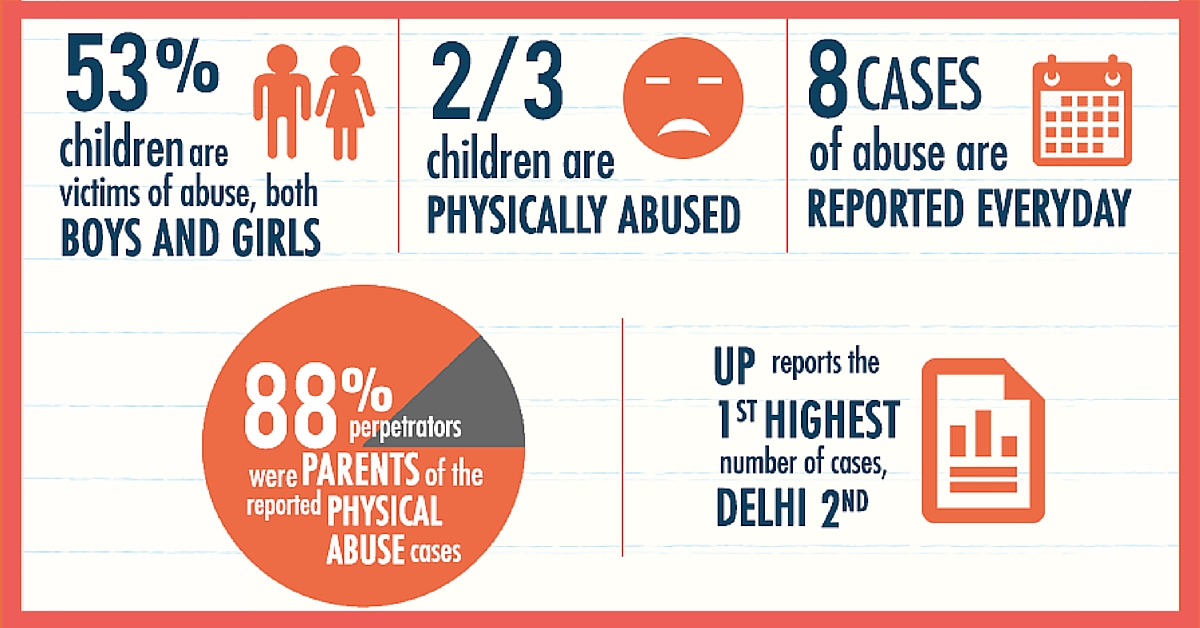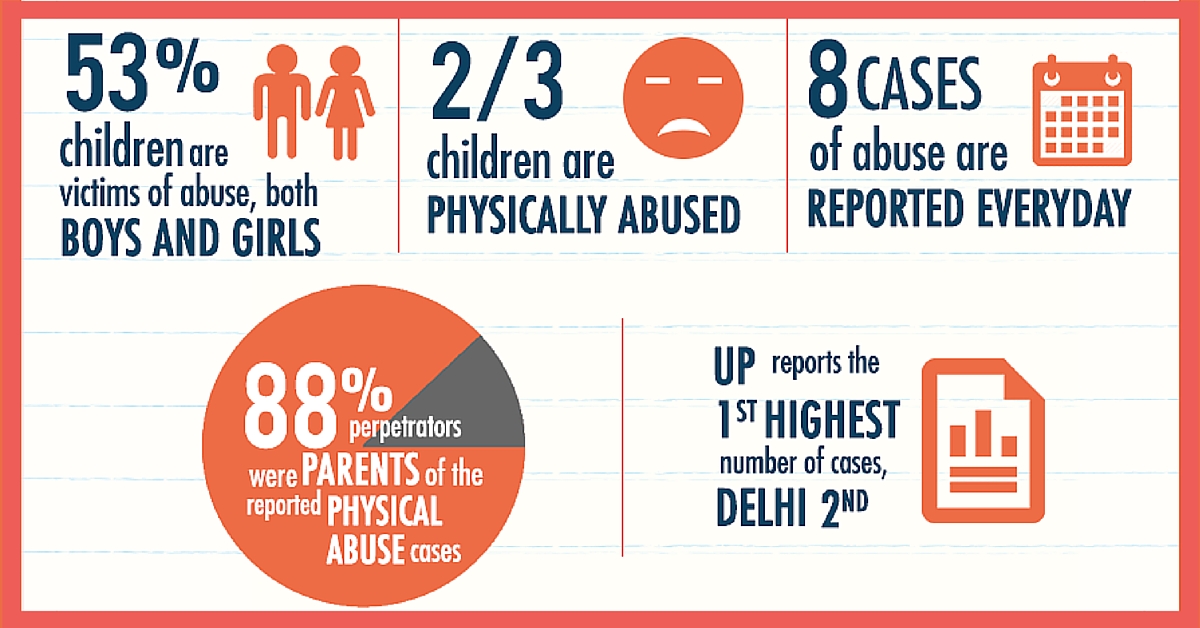 Identifying child abuse
Physical Indicators:
Suspicious wounds – Burns, injuries by bondage and unusual bruising patterns that appear on areas less likely to be injured in an accident.
Multiple wounds.
Bruises in clustered patterns.
Fractures on face or nose
Poor health
Common behavioral indicators:
Child's story of justifying injury is not believable, or the child is not able to tell you how they got injured.
The child is fearful and edgy.
The child is reluctant to undress in front of parents and peers.
Abnormally aggressive or withdrawn behavior by the child.
Reluctance to go to the school/tuition or home.
Fear of going to a certain place or a condition – like darkness or closed room.
Complaints of pain, itching, bleeding, swelling, or bruising in the genital or anal area, frequent headaches and sickness, by a child may indicate sexual abuse.
Reporting Child Abuse
If you are in India, you can report child abuse on NCPCR's website here.
Report the case to National Child Relief Helpline – 1098.
Reporting the case to the police.
Reporting the case to child rescue organizations: Save The Child across India. The organization has volunteers across the country and has tied up with over 700 NGOs.
Remember that if you are an adult, knowing about a child who is being abused and not reporting it can get you jailed for six months. As per Section 19 and 21 (1) of the Protection of Children from Sexual Offence Act, it is mandatory to report the case. This also implies to hotels, media, relatives, neighbors, and hospitals.
Edit: This post was earlier written to encourage our readers to take note of a particular video that was doing rounds. The text is as follow: 
On August 18, a video of a child being taught math by an abusive teacher emerged online, and since then the video has been going viral all over the internet. Cricketer Virat Kohli showed concern about it on his Instagram, and many celebrities like Dia Mirza and Shekhar Dhawan have voiced out against this heart-breaking video.
(The video is claimed to have been shared with a family group by the parent to show how naughty their child is. This remains unconfirmed.)
The video shows a child counting from one to five. The child is clearly distressed and is weeping profusely, pleading her teacher to teach with love. In the video, the teacher also slaps the child, when she fails to answer the question correctly.
Several people have shown concerns regarding this horrific video. Concerns have been raised towards education system and on increasing violent behavior of adults. While this has become a topic of debate, we also want to remind you to act. This goes beyond sharing the video.
Who uploaded the video, is still unknown. Whereabouts of the child are still unknown. The child clearly needs to be rescued from wherever she is. For which, you are requested to do the following:
We have already written an email to concerned authorities, and have been speaking to Childline to locate the child. You too can write e-mails to the following e-mail ids. This will only make them take the case seriously:
a) cp.ncpcr@nic.in
b) director.ncpcr@nic.in
The emails are written to National Commission for Protection of Child Rights. I have personally written to NCPCR earlier, citing another video that went viral on social media, of a teacher physically abusing children. The authorities then, had responded very proactively and their investigation found the video to be from Egypt. NCPCR did their part of reporting the concerned institution from Egypt to take an action.
2. Share this video. Yes, it is disturbing and horrifying. However, this may also help in identification of the child.
Bringing you independent, solution-oriented and well-researched stories takes us hundreds of hours each month, and years of skill-training that went behind. If our stories have inspired you or helped you in some way, please consider becoming our Supporter.