On the night of October 2011, Keenan Santos and Reuben Fernandez, gave away their lives protecting their female friends. On May 5th, 2016, five years later, the court declared their verdict finding the accused guilty and sentenced them to life imprisonment.
This story is about Valerian Santos, Keenan's father. A man who lived following his passion, who does what he firmly believes in, who is courageous enough not to shy away from the wrong. The zeal to stand for the right thing and love for his sons gave him the perennial strength to fight for what is right.
We are all different – the way we think, the way we perceive situations. And that's not because of our birth, but because of the way we are brought up. We grow up in a particular environment, with different set of friends and kin, because our decisions are different at crossroads of life and because of the people we meet who influence and inspire us.
Born in Amboli, Andheri West, Mr Santos, 57, is an Electrical Engineer by profession. He has been brought up in a family of 4 brothers and a sister (eldest in the family). He lost his father at a very young age of 6 years.
He tells me how his sister supported them after his father passed away.
"We have been brought up by the blessings of our sister, who worked very hard and whatever we are today, we owe it to her. She used to work a little extra for our birthdays and festivals to provide for us"
He was and still is, very close to his father. But the love amongst siblings was such that his eldest brother and sister brought them up as their own children. His mother taught all of them to be honest and fight against injustice. A trait that he cherished in his father and as we know today, has proudly been passed on to his sons.
Mr Santos describes his memories as a child, after his father passed away,
"The church and graveyard where my father rested, was very near to my place. I used to visit him at night and sleep on his grave"
I haven't actually pursued a career in engineering even though I have graduated as an engineer, but I know when I see a passionate engineer, and there is no denying that Mr. Santos is one. He describes a near-death incident that made him decide that his passion lay in studying and exploring the world of electricity.
"When I was about 7 years old, I was fiddling with a table fan. My mother was sleeping, when I got stuck to the lines as I had pulled out all the wires. I was gasping when my mother came and pulled the plug. When the doctor arrived, I was unconscious and my pulse had fallen. For two months I had to go around with plastic bags on my hands for burns."
From this point on even though most people said, he wouldn't touch electricity for the rest of his life, he did just that. He made it his life's mission to study and learn about electricity. At the age of 10 with his brother's permission, Mr Santos did the wiring for his entire bungalow. Such was his passion.
Mr Santos' mother has been very open about the life choices that her children took. He tells me that all his brothers have had love marriages and his mother has been supportive of each of them. So I ask him to recount the tale as to how he came to meet Mrs. Santos.
"I used to be very active in attending and volunteering in Sunday Mass at the church. That is where I met Mrs. Santos. It's a fortunate coincidence, my name is Valerian and her name is Valerie," he says with a short chuckle.
That is where they met and fell in love. She was in 8th grade and I had passed schooling. You see, Mrs Santos is 4 years younger. Her brother was in Mr Santos' class and asked him (Mr Santos) not to talk to her until she matriculates.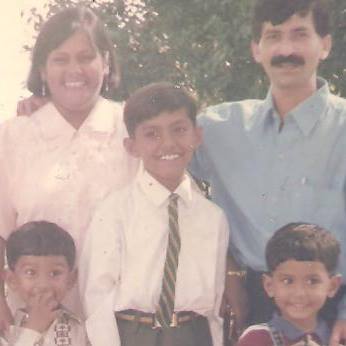 "Her brother wasn't against me. In fact, he thought I was a gentleman. He just wanted her to concentrate on studies and asked me to wait until then. So I held up my promise and reassured Valerie to wait for me. The day she got her results, she called me, I went straight to their house and proposed to the family." He believes there is a right way to go about things, that one should wait, keep their word and respect everyone's wishes.
Even when he got married, he was very firm on his principles and didn't accept anything from his in-laws. He passed the same to his sons Keenan, Shane and Sheldon. The way Keenan and Reuben and his friends stood up on the night of October 2011, made Mr Santos proud.
"God has blessed me. All my sons have grown up how I wanted them to be and more. Just like my brother is like a father to me, Keenan was to Shane and Sheldon."
Mr. Santos has made his parents proud and it didn't stop there, his sons have been no less. The same principles by which he grew up have been adopted by his sons, and that's saying something.
He never stopped any of his sons from choosing their profession or their partners and gave them necessary space and privacy. The only thing he asked in return was that they respected everyone and did things the right way.
Mr Santos describes how he set examples for them along the way. We have read about Keenan's bravery, but here is where he found the courage. Mr. Santos told me about one such instance where he helped save a girl.
"I was called by one of my friends for a drink, I asked Keenan to come along as I didn't want to drive even if I had a single peg. While we waited near my friend's place, a girl accompanied by her grandfather was attacked on by three men who were trying to rip her naked. I handed my phone to Keenan asked him call the police and jumped into the fray. I pushed the girl into the house and took on the three men, as the police arrived on the scene and arrested us all. I asked the police to knock on the door of the house to ask if the old man, that I was actually trying to save the girl. I was released when the old man and the girl arrived at the police station to give their statements."
Mr Santos says that he found the courage to fight throughout the case because his son didn't run away that night, even though many believe he should have.
"Neither I nor Keenan would have been able to sleep if he ran that night."
Even during the last five years he has had people telling him stories about Keenan helping people which he wasn't even aware of.
He tells me the story of a girl and her husband who came up to him on the street when he was getting his bike repaired, informing him that Keenan had helped her from an assault in an alleyway and dropped her off safely at her place without even asking her name. There are countless other stories where Keenan had helped or counseled women who have been through similar situations.
When the conversation moved to the court proceeding he tells me the troubles he has faced from the supporters of the accused, the threats and the way there were so many people in the court in support of the accused but very few or sometimes none for Keenan and Reuben. One of the reasons court proceedings got delayed were due to the fact that the accused never turned up for the hearing most of the time, either because there was no one present to accompany the accused to the court or they were assigned to a duty elsewhere. It used to waste the time of senior police officials and judge.
I could feel the anguish in his voice, towards the injustice. He thanked his current place of employment, India Finance and Construction Pvt. Ltd., where he is the Chief Engineer, for their constant support, which helped him stand up and attend the court proceedings.
"What about so many other cases that haven't even been started? I want to make my life's mission to see that fast-track courts own up to their name."
Mr Santos, says he talks and spends time with his workers to get to know their problems and help them.
"If you want to know what a man's like, take a good look at how he treats his inferiors, not his equals."
Right after the court gave its verdict, Mr. Santos couldn't help but break down. He shared with ToI,
"I had suppressed my tears. I had promised myself not to cry till justice is served. The day court gave the verdict, I was very relieved. I could bring out all that I had bottled up within me for all these years. You know I'm a Catholic so I couldn't bring myself to wish them death but I'm happy that they've been served the maximum punishment in jail. Four termites of society are less on the roads now. Let them appeal if they want to but one thing is sure, I will be there standing for justice,"
On Father's day, I feel proud to have had a conversation who's not just been a proud and amazing father, but a passionate caring son, who passed on the legacy of his principles and ideals not just to his sons, but from then, on to me as well.
Bringing you independent, solution-oriented and well-researched stories takes us hundreds of hours each month, and years of skill-training that went behind. If our stories have inspired you or helped you in some way, please consider becoming our Supporter.