Meet Satwik – An alumnus of the Entrepreneurship Development Institute, Mechanical Engineering graduate from VIT and an entrepreneur, Satwik dons many hats.
What makes his profile remarkable is his passion and passion to teach and to transform the destiny of children in the remote village of Mohuda in Ganjam district of Odisha.
I've known Satwik for last one year. Facebook friends. This was when Chaaipani has just started, Satwik had written to us about his venture Mechjunction. He was also working in a well-known IT company then. Since a few months back, I noticed pictures of Satwik working in villages with kids, which made me a little inquisitive and a little hopeful about his work that was making some little faces smile.
"When I resigned from a lucrative job to join SBI YFI Fellowship, the sole motive was to get the meaning to my life. The job undoubtedly was providing me sufficient money but yet not the satisfaction I was looking for. That's when I applied for the SBI YFI Fellowship 2016, something that demanded me to work on things I was passionate about"
As requested in his application, Satwik was given a chance to work with Gram Vikas, an NGO working proactively towards rural development, with its headquarters based in Mohuda, a small village in Odisha.
"During our orientation, we were made to visit over 50 villages where Gram Vikas was working. It was amazing to see sustainability of development in and around. Every house had water supply, buildings were disaster resistant, there were primary schools, livelihood opportunities, 100% sanitation facility and villagers used alternate source of energy"
Out of 4 schools operated by Gram Vikas, Satwik found his mini calling in one at Kankia village in Ganjam district of Odisha.
"This school has a strength of 500+ students coming from 200+ tribal villages of Odisha. Having its location in the remote part, 13 km away from the nearest town, this school was not less than a surprise for us. It had weightlifting center, solar energy supply, solar water filter facility, steam cooking installations, vermi-compost units, a radical library, computer lab and creativity centre."
This school particularly interested Satwik and he started visiting the place frequently. Of what looked like the perfect school, Satwik began noticing the holes that were yet to be fixed.
"Gradually, I began noticing many flaws in how the school was being run. I had a million complaints, however I realised that I was selected to be here, to not crib but fix things with sustainable solutions"
At one particular day, Manoj, a student came to Satwik asking him about his graduation stream. After knowing that Satwik graduated in Engineering, the kid was all the more fascinated.
"He was excited and suddenly upset. He told me 'mujhe bhi engineer banna tha, but sab nahi ban sakte na'. This incident made me ponder over the what exactly was killing these dreams. The world definitely needs great engineers and losing the passionate ones is the worst that could be"
Satwik began studying the curriculum and performance of students. Soon, he figured that Maths and Science were the most dreaded subjects by the students and despite extra efforts, the kids weren't doing well in the subjects.
"The teacher would teach the kids about Science with all the available resources, however, there were no Science labs at all where students could understand the beauty of science on their own through experimentation"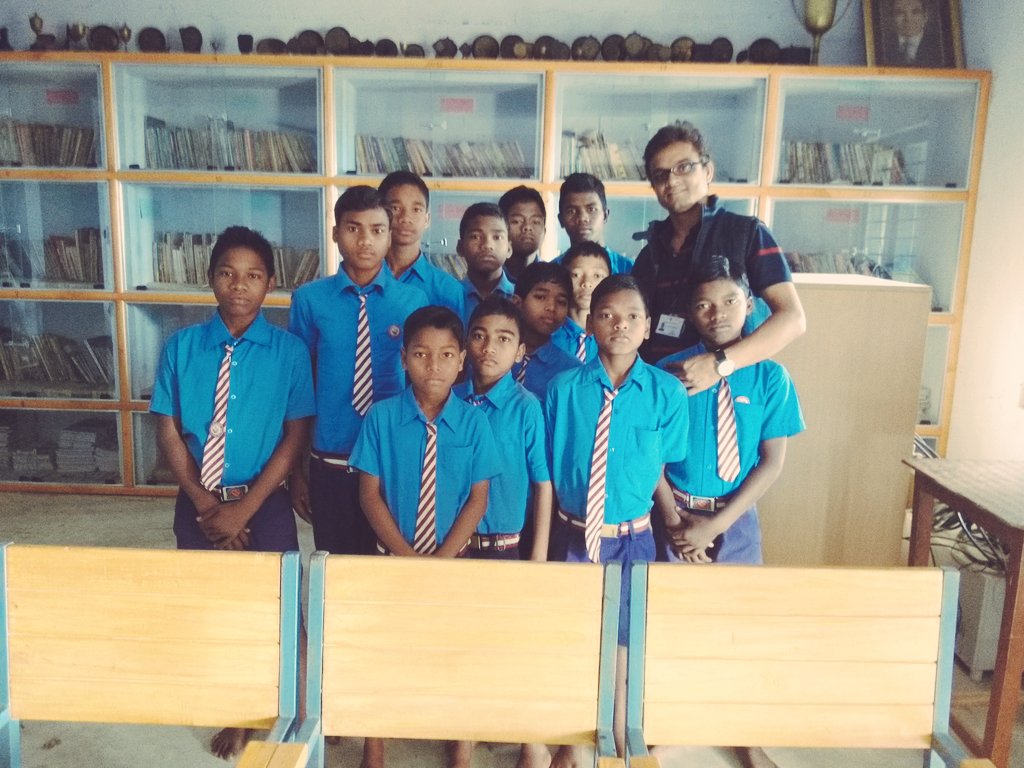 Sensing the obvious, Satwik has began working on the Science Lab. The lab manual is made, he has started taking workshops and the authorities are already working on setting up the infrastructure.
"The excitement on students face every-time I tell them about some software or a scientific phenomena is priceless. It fuels me to do more and keep going"
Has there been a life-lesson his term has taught? He shares,
"After having it all, I've realized that satisfaction doesn't come through getting everything we want from the world but from giving back to it, irrespective of the quantum of it"
Bringing you independent, solution-oriented and well-researched stories takes us hundreds of hours each month, and years of skill-training that went behind. If our stories have inspired you or helped you in some way, please consider becoming our Supporter.