Full disclosure: We were paid by our partner to promote this as part of a Brand+ve collaboration to promote good work. We're selective about our partnerships, and we'll always be upfront with you about them. Chaaipani has full editorial discretion on the content partner content.
This story is a part of Inclov's "I Am CapAble" series. 
Inclov strives to provide equal and inclusive opportunity to everyone looking for love. 
"A lot of people never understood why I, a perfectly able woman, decided to marry Baldev, who has visual impairment."
Shalini says, sounding very seasoned to answer this.
"People have questioned our relationship, asked me often if I was sure of my choice, but I had never been more certain of someone, than I was of him", she adds.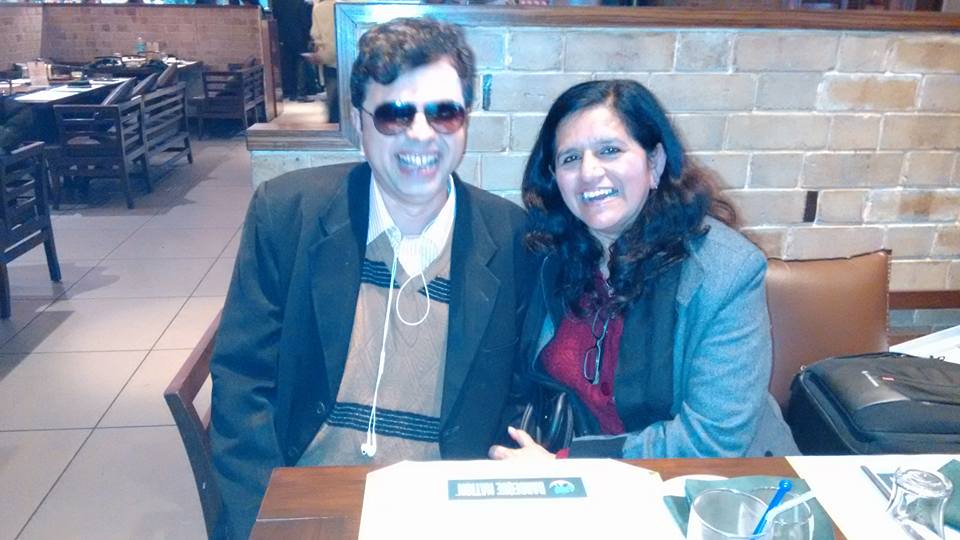 Baldev has been visually impaired since birth. Shalini and Baldev met at a Rehabilitation Counselling Course at the Tata Institution of Social Sciences. Then friends, Shalini and Baldev worked together in the social sector.
"We were almost always on a similar wavelength. Somewhere, along a plateau of conversations and experiences together, our friendship turned to love and we decided to spend our lives together"
[inlinetweet prefix="" tweeter="" suffix="Read: https://chaaipani.com/2016/05/27/shalini-love/"]Day in and day out, I meet people – people in love, people out of love, people afraid to fall in love.[/inlinetweet] And then, there are people like Shalini and Baldev – SURE about their love.
One of the hardest hurdles of their relationship, Shalini says, was gaining the acceptance of her family.
"They refused to let me wed him, for they believed I could find someone with no physical challenges, who could look after me better. I'd been with Baldev for 4 years by then, and I was absolutely certain that he is the man I want to marry. He is a very principled and grounded man, and his sturdiness gave me the courage to fight with my family for him. It was only after a couple of intense conversations that I put my foot down and told my family that he is the only man I will marry. After understanding my absolute love towards Baldev, my family accepted him as part of their own"
Coming from a generation where everyone is available but never really available, I am curious to know what keeps them together. Shalini tells,
"[inlinetweet prefix="" tweeter="" suffix="Read: https://chaaipani.com/2016/05/27/shalini-love/"]We share. Everything. We have a very communicative relationship[/inlinetweet], and I believe that it is a crucial ingredient of a successful relationship. My journey with him has been very interesting and joyful with abundant highs and lows. We ensure both of us are on the same page at all times"
Right there – nothing fancy, no incomprehensible tips. Just one tip – Communicate.
"We are faced with difficulties almost every day, but we deal with it like any other couple would. We do argue, we do fight, but we never fail to reconcile for our love for each other is too strong to let go of. In a marriage, it is integral to accept each other for who we truly are", Shalini says.
She tells us how they carry out their routine activity as a couple, which sounds quiet normal. We ask her a little bit more on their social interactions, Shalini shares:
"People often ask me – You are so beautiful, so intelligent, you earn so well. Why are you with him? I rubbish their qualms for they are baseless and prejudiced, and Baldev has been nothing short of an ideal partner to me"
While most of us today are literally spoiled for choices, Shalini and Baldev's story talks about the emotion of sticking by. Little unchartered a territory for a lot of us, no?
On an ending note, Shalini shares,
"Marriages are made in heaven, but are only successful with our constant efforts and inclinations for adjustments"
With Inclov, world's first matchmaking app focusing on people with disability, and with health disorders. 
You too can find love here - unafraid, undaunted.
Bringing you independent, solution-oriented and well-researched stories takes us hundreds of hours each month, and years of skill-training that went behind. If our stories have inspired you or helped you in some way, please consider becoming our Supporter.