"All the world is full of suffering.  It is also full of overcoming".  These are the words of Helen Keller, a political activist, author, lecturer who became the face of the blind and deaf.
Have you ever pondered about how it would be like to dream and visualise those dreams without having the gift of sight?
It is obvious that every human being has the capacity to dream.  But how does one get the expression to support them?
This very thought motivated Sunil J. Mathew and M.C.Roy to start SRVC – The Society for Rehabilitation of the Visually Challenged.  It all started back in 2002 when Sunil and Roy met coincidentally and had a chat. Both of them wanted to create an opportunity for the blind.  Eventually they came together and formed SRVC in Kochi which today has covered several projects under their umbrella.
SRVC has been working extensively to help the blind since its inception. They  offer computer training,  employ  the blind in telesales jobs  by tying up with Vodafone, run an orchestra named Heart 2 Heart  Orchestra comprising of blind musicians and artists , give training in foot reflexology  thereby opening various opportunities professionally for the blind. Their latest project since 2013 has been sports rehabilitation through Blind Football (5-a-side game).
The team with coach Sunil Mathew during the north- east tournament in January 2018
With the help of multilingual software, they offered training and conducted camps for the blind. By 2008 a training centre was developed that offered computer training and communication classes.  Once the people are trained they are equipped to take up full time jobs and SRVC helps those who are looking out for an occupation. It is very inspiring to know that they have helped secure jobs for the blind in organisations such as Wipro, Cisco, CTS, Taj, Eastern Group, Popular Automobiles, Muthoot, Choice School, Sunrise Hospital, Allianz Insurance, Bank of India.
However it has not been a smooth ride and IT companies initially were not willing to employ the blind.
Under the guidance of M.C. Roy, a three piece band (flute, guitar and thabala) was formed in 2004.  What started off with musicians playing in wedding functions soon scaled up and now Heart 2 Heart orchestra team has covered more than 300 shows around India and a few abroad as well.  They now have a permanent job as a lobby band and play in Le Meridien and AsterMedicity.
SRVC'S dream is to make Heart 2 Heart Orchestra a World Class Orchestra.
A lot has been done in the field of sports.  Many of the SRVC students have played for the State and also represented the nation in Blind Cricket and other sports like athletics, power lifting etc.
The first Indian National Blind Football team was put together by SRVC in 2013.  SRVC has been working with IBSA (Indian Blind Sports Association) and Paralympics Committee of India (PCI) to promote Blind Football in the country.  Ever since then, with the relentless efforts of SRVC and Sunil Mathew, the team has participated at several International tournaments and is currently ranked 23rd in the world.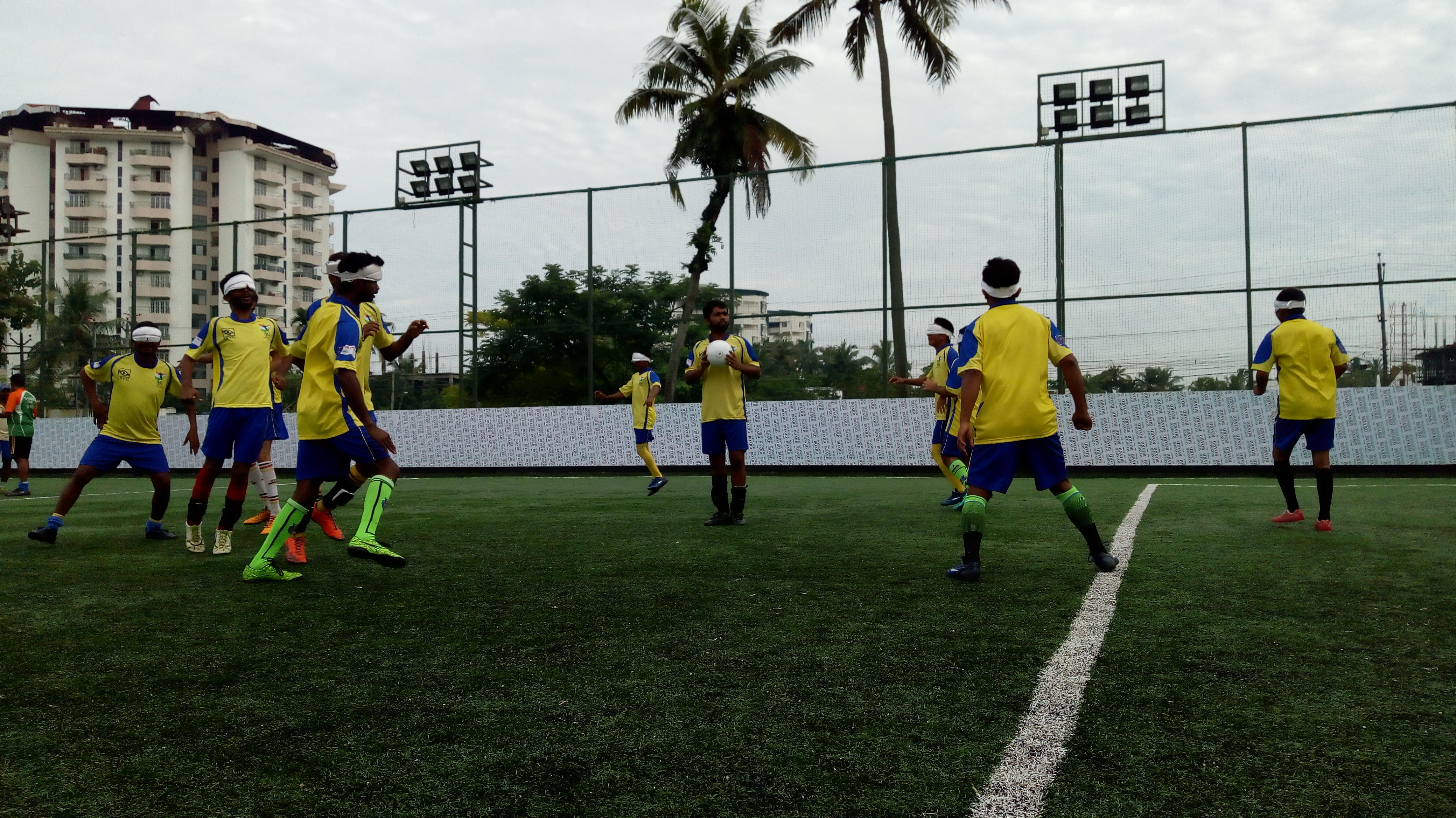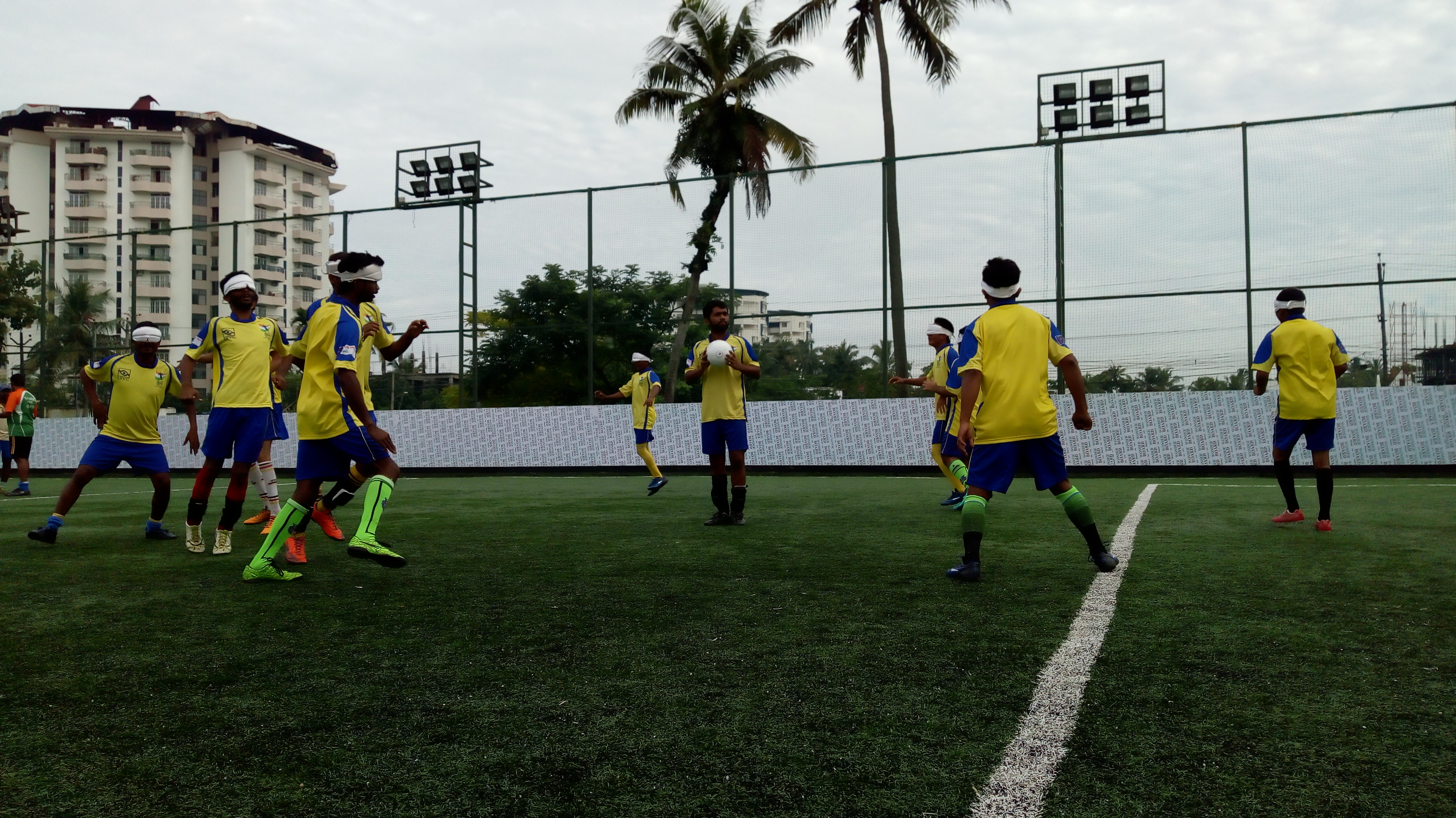 In 2017, another feather was added to SRVC's hat.  The first Blind Football Academy was formed and inaugurated by IBSA World Blind Football Chairman & German National team coach, Mr. Ulrich Pfister.
For more information , check out the following link
You could also take a look at the following video
https://www.youtube.com/watch?v=o27j34bpv9g
In a country like India where diversity flows extensively, it is not hard to find talent from every corner of the country. You will be surprised to know that India currently has around 12 million blind people against 39 million globally.  This makes India home to one-third of the world's blind population.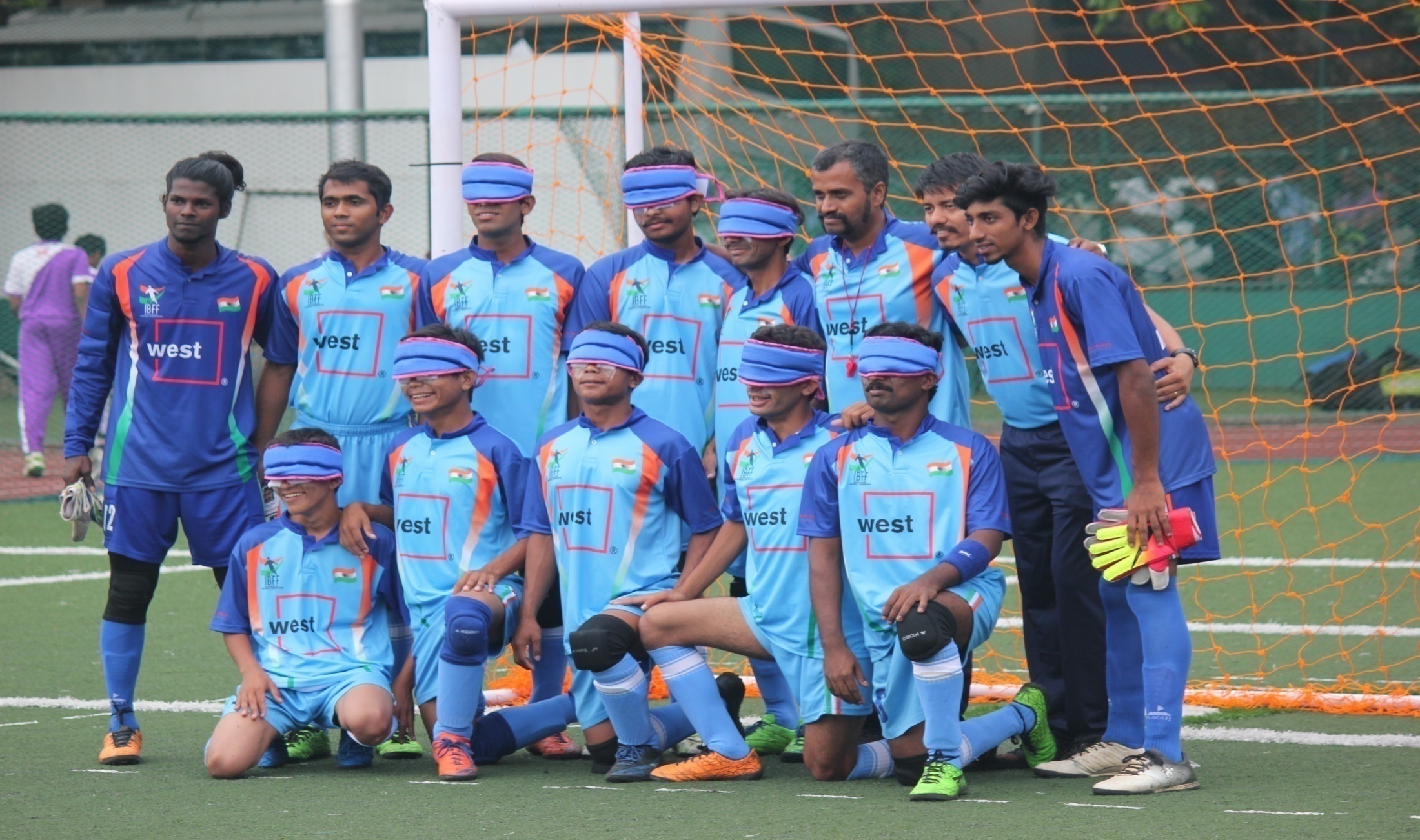 Organisations like SRVC are nothing but a gift to humanity and people like Sunil Mathew are surely angels sent by God.  If every one of us were to help and rethink how the blind were to be treated, this world would definitely be a better place to live in.  What they require is an opportunity, a chance, a platform.  Together with our support they could reach for the stars.
At present SRVC's challenge is getting enough volunteers and manpower along with media exposure.
Volunteers are welcome to approach SRVC and contribute in their own way.
For more updates and insights on SRVC and the National Blind Football team stay tuned to chaaipani.com.
Bringing you independent, solution-oriented and well-researched stories takes us hundreds of hours each month, and years of skill-training that went behind. If our stories have inspired you or helped you in some way, please consider becoming our Supporter.