If you met me in the year 2013, you could have easily passed me off as a recent college graduate trying to find my way through the chaos of recruitment, peer pressure, salary packages, application to foreign universities, MBA and everything else that a 21-year-old young person is usually concerned about.
But unlike others, I wasn't going to give in to the next best thing that would be a stepping stone to my career. To be honest, I had always been curiosity-driven, and not career-driven.
Hence to avoid the noise after graduation, I packed my backpack and went to Brazil till my bank balance turned zero. I only came back after three months of living it all with no regrets. I partied all night daily at Lapa, went home only past sunrise and explored Rio de Janeiro in the daytime. If life ever told me I was going to be an entrepreneur, I would either forget about that thought in a second, or laugh it off.
Entrepreneurship happened to me by accident. I had no interest in either starting up or becoming a billionaire. Starting up was definitely by chance and not by choice.
At the age of 23, I founded the world's first matchmaking app focusing on helping people with disabilities and health disorders find love. The experience changed me for the better.
Here's what I've learnt working on my startup so far.
Do things that don't scale
Only this year did I read about Paul Graham's blog on doing things that don't scale.
Surprisingly enough, this post was published on July 2013, exactly a year before I launched Wanted Umbrella, a matchmaking boutique agency focusing on people with disabilities.
I managed to handpick 100 profiles from various cities and set up Skype calls for people to meet each other and decide if they wanted to go on a date, or help their families meet for the purpose of matrimony. I also charged them a minimal fee for this service, to ensure that there is a willingness to pay, since I saw a business opportunity in this untapped market from day one.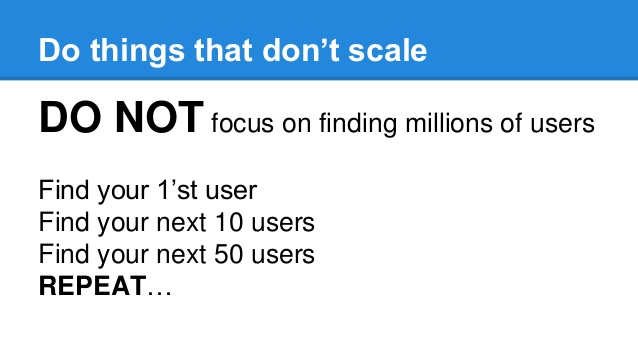 This offline matchmaking agency was not scaleable, which I only realised later when I was struggling to handle more than 150 offline matrimony forms and biodata. However, starting a matchmaking agency was the best decision I ever made. Not only did I understand the problem at the root, but I also got to speak to customers first-hand to find out their motivation to find a life partner, and their pain-points in doing so.
This saved me a lot of time when I decided to pivot to a mobile app. My existing customers made this way easier than it looked, by telling me how they used existing apps, and what they would prefer if this was to go digital.
Take your lawyer very seriously
I always thought that company registration and copyright was a money making gimmick. We incorporated Inclov Technologies Pvt. Ltd. on March 1, 2016, way past our mobile launch day of January 21, 2016.
This could have had serious consequences leading to an identity theft. We were lucky to escape, but do yourself a favour, get a CA and lawyer while you take care of the business.
Angel rounds and VCs are not the only way to raise funds
When we decided to pivot to a matchmaking app focusing on people with disabilities, we knew many investors may not understand this untapped market, since it was always driven by social trusts and NGOs in fragmented parts of India. We wanted to provide equal opportunities for everyone to fall in love, and I was sure selling the concept of love to investors would be like selling air in jars. You know it exists, but you just don't see it yet.
Hence, we decided to crowdfund the idea in return for some quirky rewards for our backers. Back then, the proposed name of this app was Loveability. Not only did crowdfunding help us raise half a million Indian rupees to develop the prototype, it also helped us with our initial beta users who willingly came forward to test and give feedback on the designed product.
You need a co-founder
I used to cringe when people told me that I needed to find a co-founder. I never found it necessary until I got one onboard.
Sure, working alone for me was easier, since I was never a people person anyway. But getting a co-founder, especially someone who could match my beat, made work not only easy and fast, but also very fun! We literally celebrate everything under the sun, from Indian festivals, to smaller startup victories, like our first success story on the app.
Honestly, I never went looking for a co-founder at startup events or networking meet ups. I already knew him for a few years and we always kept each other informed about what we were up to, until one day he called and asked if he could join me.
Getting a good team onboard makes it easier for you to work, especially when you are sick or tired.
You don't need a fancy office to launch a successful idea
After a month's delay, we decided to officially launch the app on January 21, 2016. It was going to be a new beginning for us, and we were very excited to see how things would shape up.
We built the initial hype through word-of-mouth and ensured that our customers were excited for this launch as well. We work from a home-office, where the team works and lives together.
Unfortunately, electricity decided to take a holiday on the launch day. All of our laptops ran out of power, and we lost internet connectivity. We got changed and reached Café Farmout, which was an occasional meeting space for our team when things became monotonous at home.
We then saw our social media feeds flooding with congratulatory posts and messages, and profiles being created on the app by the minute.
This was actually happening. You suddenly have this sense of responsibility, knowing that there are people out there who are actually connecting with others because of your efforts.
Keep going, you never know what is just round the corner
It was tiring, but it sure wasn't over. In fact, I knew that this was just the beginning.
A week later, we organized a meet up for programmers and techies at the same cafe, where my co-founder spoke to the audience about the accessibility of technology, and mobile apps in particular.
As he was interacting with the audience, I answered a phone call. It was one of the early Inclov users, Anu, who called in to let us know that she met Imran on Inclov, and they are getting married on May 13, 2016. She has waited for six long years before she found her life partner within ten days of our app launch.
This is how the right product for right people can be life changing for all parties involved. Read their whole story here.
Technology can bridge gaps offline models could not
Of the 1.2 billion people with disabilities, 600 million people in the 20-60 age range are single. Existing services in the matchmaking space are not designed to be accessible for people with disabilities.
Inclov is the world's first matchmaking app focusing on people with disability and health disorders to find love.
Until we launched this app, people had to painfully endure using existing products, leading to a higher churn rate due to lack of customized filters and mismatched expectations. Our existing users are those who have been looking for their life partner for several years now on different platforms and services, but have been unsuccessful in doing so.
Our app employed methods of matching individuals based on their level of independence, cure availability, medication and instruments used.
This led to a higher acceptance rate, due to transparency of information and clear expectation setting. The app promotes inclusion, and does not restrict access to only people with disabilities.
Our app also ensured optimal readability of profile pages through mobile screen readers. We also support users with upper body immobility. A video calling feature is next in our pipeline to address the needs of the hearing impaired.
There was no way we could solve this problem through our offline agency model.
Bootstrapping our mission so far
This concept started as a small project with 100 registrants. We have been completely bootstrapped so far. Now that we have successfully launched and validated a few hypotheses, we are reaching out to investors for seed capital to scale this up further.
It has been a month since I have started interacting with potential investors, and this is another unique journey I hope to speak about someday once we've successfully raised our first seed round.
This article has been originally published here.
Bringing you independent, solution-oriented and well-researched stories takes us hundreds of hours each month, and years of skill-training that went behind. If our stories have inspired you or helped you in some way, please consider becoming our Supporter.