2016 can definitely be called the year of sports for women in India. With Indian women shining in the Olympics and several other tournaments, women have always done India proud with their grit and determination.
Tanvie Hans, a young Indian girl hailing from New Delhi has taken her passion several levels higher. She has gone on to play for one of the biggest women's teams in England. From being the captain of her school football team to being the first girl from India to play in England for a Premier Club, Tanvie Hans has seen it all.
Tanvie has always been a competitive girl with a natural athletic flair. She started playing football at the park behind her house with the boys. She had a natural talent for the sport and quite obviously became the captain of her school's football team. Call it a coincidence or destiny, she went to Vasant Valley, the first school in Delhi to have a girl's football team.
Living her dream
The young lady who follows a disciplined lifestyle is a source of inspiration to any girl who wants to move ahead without being affected by self- doubt.
"Being a girl, sports should be a sort of force to move ahead. Keep going and as a person, you are sure to grow", she says.
She ensures that she leads a healthy lifestyle and keeps herself fit at all times. Check out her intense workout on her social media profile that stands testimony to this.
Born in Punjab, she did her under-graduation at Jesus and Mary College, which had the best women's football team in Delhi University. She went on to lead the team as the captain in her final year.
In 2011, after she graduated, she went to England to pursue her masters from the University of Exeter in South West England. She played for her university team and loved the standards there where the entire structure is pre-planned.
Tanvie has always wanted to pursue football in India and make India proud. However, her British passport (her mother was born there) prevented her from representing the Indian team. So she decided to go back to London where she played with all her zeal and enthusiasm. She was selected for Tottenham Hotspurs Women's FC. It was during the next two years that she thoroughly evolved as a footballer. Her dedication and commitment got her to the list of the top 30 players.
Obstacles she overcame
If you think everything was hunky-dory and Tanvie had a smooth ride, then you are wrong. In 2008, she was called for the U-19 India Camp at Gwalior. After a month of rigorous training she was shortlisted for the final squad but as luck would have it, the selectors took her aside because she was holding a British passport. Being one of the best in India and not able to pursue her passion in her own country was the first of the biggest disappointments she had to face. However, she didn't let that bog her down and decided to keep going.
While at Exeter, she realized that though she was good, she had to get better. The professionalism and competitive spirit of the girls there, motivated her to strive harder and she graduated from the second to the first team within just two weeks!
In 2013 after returning to London she made it to three club's open trials that she had applied for. She got into Tottenham Hotspurs Women's FC. The competition was massive indeed and she continued to strive hard. Tanvie is a forward and plays multiple offensive positions.
Apart from being a footballer, in order to sustain herself, she had to work as a marketing executive. She says every footballer sustains herself with a job or multiple ones.
Unique is an understatement
"What would you be in life, if not a footballer"?
She replies, "Maybe I would be a dancer. I've got my athletic genes from my Dad and my creative genes from my mom", says the young lady who enjoys writing poetry and dancing.
Now here is yet another tryst Tanvie has had which is unique in every sense of the word.
Gurinder Chadha, the UK-based filmmaker and director of "Bend it like Beckham" liked her story and wanted to make her the poster girl for the Bend it Like Beckham musical. Tanvie also trained the actresses in football, so that they look like proper players on stage.
She says, "At the age of 12 when Bend it Like Beckham was released, I would never have thought sitting in Delhi watching this movie that inspired me to dream big, that 12 years later I would be the poster girl for the musical adaptation".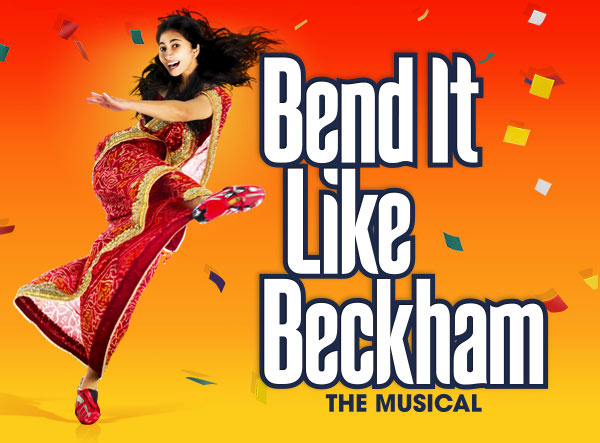 She inspires us for more than one reason
She has moved base to India and is undertaking a lot of initiatives.  She started the GiftOfFootball wherein you gift a football to any kid on the street or underprivileged school, who truly values it and uses it well.
She was a part of the viral campaign by Nike' Da Da Ding' which features Deepika Padukone along with other sportswomen like Tanvie. It is a powerful ad that celebrates India's female athletes and their competitive spirit. She held a fundraiser to help fund 40 underprivileged girl's football teams. She trained and interacted with all the girls who benefitted from the fundraiser.
She is a part of numerous organizations and foundations where she has trained and inspired girls. She also wants to start a structured foundation where girls can come regularly and train.
Miles to go before I sleep
"This is my home and this is where I belong"
This undisputed queen of football is a sensation, inspiration, and motivation to thousands perhaps millions in our country who are struggling to find their way.  Is it not fair that we back her up and encourage her in her pursuit to contribute to the country?
While we only hear stories of people giving up their international stints for the country, Tanvie has surrendered her British passport and is still waiting to play for our country.  Soon she will be a part of the team and will continue to make India proud.  We wish you all the very best in all your endeavors dear Tanvie.  God bless you, you have the nation's prayers and support.
Godspeed to you!
Bringing you independent, solution-oriented and well-researched stories takes us hundreds of hours each month, and years of skill-training that went behind. If our stories have inspired you or helped you in some way, please consider becoming our Supporter.