"We wanted to tell the story of a homosexual character, and it was far from easy', says Meghana, lead actress playing the role of 'Radhika' in the film, The Door.
A film is a powerful medium. It educates, initiates meaningful debates and challenges. It opens our eyes up to other possibilities. Lately and thankfully, we've been witnessing an acceptance by Bollywood for films that depict stories of LGBT community. Recent examples being 'Aligarh', that narrates the life of a gay professor Dr. Shrinivas Siras, and Fawad Khan in 'Kapoor and Sons'.
Meghana and I spoke on the day Mumbai was flooded. We spoke of indifference and indifference towards anything different. She tells me how it was difficult for the director to cast mainstream actors in 'The Door' because the topic is still tabooed in the industry. And how their team was turned down multiple times by production houses because the film talked about love, a bit different one here.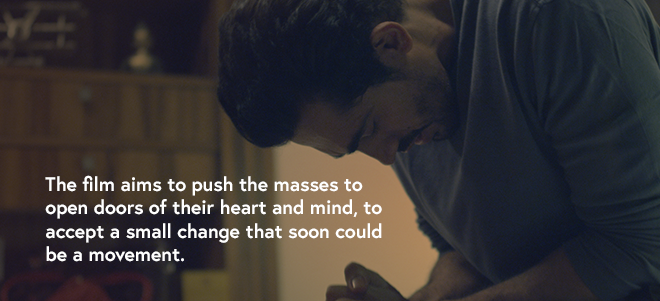 Directed by Gaurav Bhatt, The Door talks about a man (played by Kashyap Shangari) who comes from a rich family, is married to a respectable woman and has all the wealth in the world. What's missing in his life is simple love. The film tells the story of Dev and that of Radhika and Dev, on how their lives unfold when Dev comes out about his sexuality.
This, the investors and bigger production houses found edgy.
"And that's when we decided to go ahead and make this independently."
But why pursue something that not many support?
"That's the thrill of doing something challenging. The more people protest about the concept of the film, the more it fuels us now. If the idea of homosexuality can raise so many eye-brows, we better help people put it down", Meghana adds.
The team behind 'The Door' has now turned towards crowd-funding to raise funds to finish the films. The actors, who haven't taken their pay yet, are in fact campaigning in their networks, asking friends and family to contribute.
"It is a chicken-egg situation. Films like 'The Door', that tackle homosexuality as is, and don't have big names associated, find it difficult to go mainstream", Meghana says.
The other way around is to depict homosexuality subtly. Like in 'Kapoor & Sons', where homosexuality isn't the central focus, and most of the times, is barely explored. Or to make films where one of the characters is queer, a part of the main plot – like 'Angry Indian Goddess'.
"The Door has become more than just a film to us now. It is a movement and we want to make it possible, starting by telling this one story and telling it loud", says Meghana, who is already an established Emcee in Mumbai.
While pride marches and TV debates are doing their part at bringing the society on terms with homosexuality, it is also essential to use films as a tool to normalize what is labeled abnormal.  Films like The Door should be encouraged to reach the masses, telling stories and consuming them like any other story we are told. India certainly needs more desi stories on homosexuality in different formats and there is a regrettable lack of them.
You can encourage and contribute to the crowdfunding campaign of 'The Door' here. And you must.
Because it's the stories that bridge the gap between ignorance and empathy, and have the power to prevent the 'unnatural-ization' of the homosexual community.
Do you think you have a story or came across one that could inspire several out there? Email us on contact@chaaipani.com or join us on Facebook, Instagram(@chaaipani)and Twitter (@chaaipani). To get inspiring stories on WhatsApp, just drop your number here. Don't forget to subscribe to our strictly no-spam e-mail newsletter to brighten up your inbox!
Bringing you independent, solution-oriented and well-researched stories takes us hundreds of hours each month, and years of skill-training that went behind. If our stories have inspired you or helped you in some way, please consider becoming our Supporter.