Once upon a time, there was a woman who had three dogs- Tigress, Pondi and Marco- Polo. She loved them dearly. Actually, she loved them the most.  Coming back home to their wagging tails, warm cuddles and wet noses was the best feeling in the world. But, she was an adult and like all adults, she had to work. A writer, a photojournalist, a documentary film producer, she would travel the world all by herself. She was passionate about her work but it would always break her heart to leave her dogs behind. She would constantly worry about them and would impatiently wait to get back home to their adorable faces! Things changed, when Pondi passed away. This broke her heart completely. She was sad and felt guilty for not having spent enough time with her family. She felt the need to heal and get over the loss. That's when she decided to do something and this changed her life in the most beautiful way possible.  She decided to travel and go places with her dogs Tigress and Marco-Polo! Now, she would never have to stay away from them.
­­­Meet Divya Dugar, the woman who is breaking the stereotype that one can't travel with dogs and that too in style. She along with her husband Olivier manage to take out time from their busy lives and take 7-8 trips a year with their dogs. Tigress and Pondi were Divya's office dogs who would be on the road when the office closed and would impatiently wait for the door to open the next morning. She rescued them when they were eight months and four months old respectively. Marco-Polo joined their family sometime later. Pondi's death was the driving factor for Divya to spread awareness about travelling with dogs and adopting them.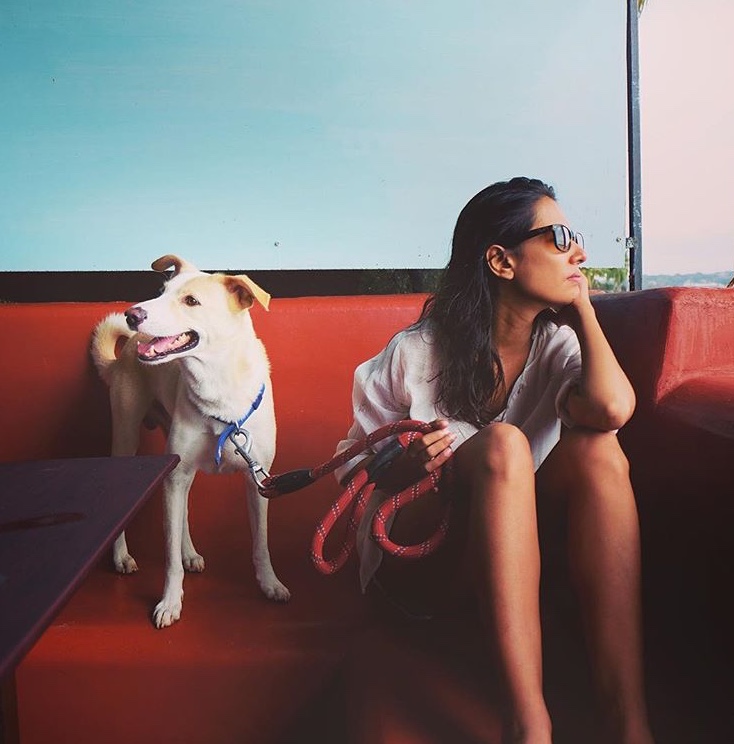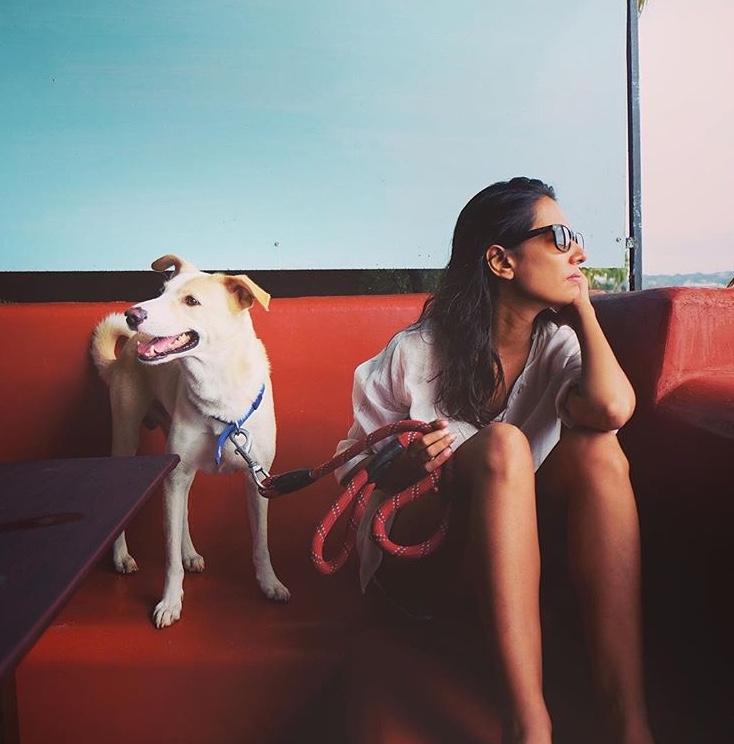 First trip that Divya and Olivier took with their four legged family was to Goa in 2016. Did Divya know what she was getting into? No. She was anxious and so were Tigress and Marco-Polo.  Divya shares her experience. Their trip to Goa was a five week long trip. The journey began with a train journey from Delhi to Madgaon. (Hey, pets can travel on the Indian Railways. You just have to follow a certain procedure.)  Initially, the dogs were restless on the train but soon they were well settled, enjoying the view from their window seats. After reaching Goa, they had rented a car for their stay. Initially, they would take short drives since they were worried about their dogs' motion sickness. Required precautions were taken like carrying medicines, plenty of water, the correct food to make the road journey comfortable for Tigress and Marco-Polo. They would go to the less populated beaches, pet friendly shacks, beautiful landscape locations for picnics, interact with the locals and randomly take walks. Divya claims that in spite of challenges, Goa by far has been the most memorable trip. Divya says that Goa is a pet friendly state. So, if you are now inspired to take your dog for a vacation, you should consider Goa.
     "When we are travelling together, there is a feeling of content. I like to view the world through my dog's eyes."
Do her dogs enjoy travelling? Damn, yes! Tiger and Marco-Polo have seen the outside world and all the excitement that comes with travelling. The furry family has together taken trips to Jaipur, Orcha in Madhya Pradesh, and Shekhawati near Churu in Rajasthan. They have also stayed at the Tree of Life Resort in Landour and The Goat's Village in Garhwal, Uttarakhand.  Divya says that her dogs now love to travel by car and train journeys are their favorite. When asked, if Tigress and Marco-Polo prefer mountains or the beaches, Divya replied, "Actually both. They are nomads now." She shared that Tigress who was once afraid of even going near the water now loves swimming and jumping in the beach waves.
                                  "They love it! They are spoilt now for life."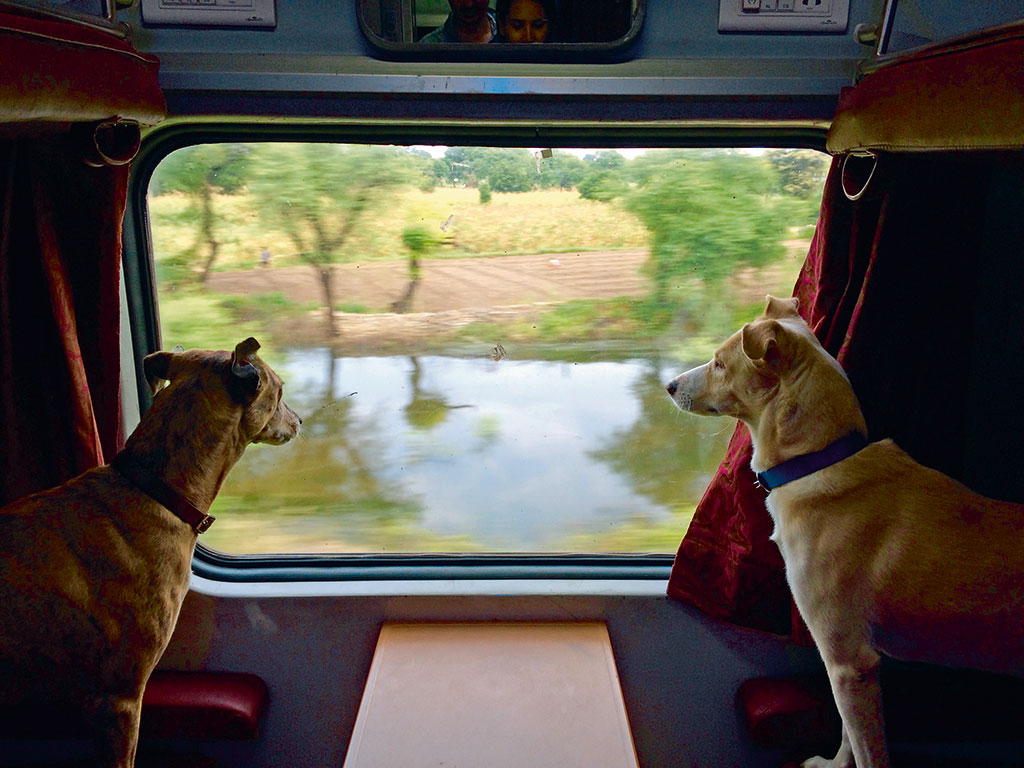 Divya first got inspired by a dog named Maddie who lives in the US. Maddie travels across the country with his photographer human friend Theron Humphrey.  (The name of his Instagram handle is thewildidea.)
 "We usually think that taking your dog out for a walk is enough. But, it actually isn't. They too like humans need mental stimulation."
This superwoman is not just breaking the stereotype but is also making a change. The journey with her dogs that initially started off for herself has impacted a lot of families. Many people have now started travelling with their dogs and many have also stopped giving up their dogs for adoption because of relocation. Through her Instagram handle dugardd, Divya helps people by answering all their queries about travelling with pets. She also gives an account of her journeys involving all the ups and downs.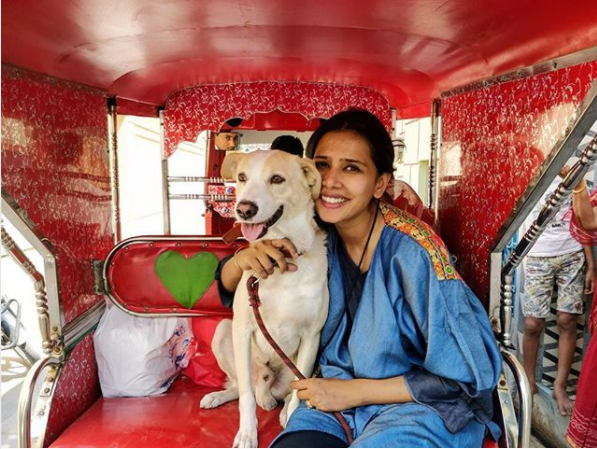 Recently, Divya found an abandoned pup with a broken leg near her house. She rescued it and now takes care of it. Divya and Olivier have named him Alex. She shared that they are planning to include Alex too in their trips and are currently working on it. Divya strongly believes in 'Adopt. Don't Shop' and wishes she could adopt many dogs.  Unfortunately, she cannot keep cats. "Tiger and Marco-Polo cannot stand cats", she laughed.  This traveler family is planning their next trip to Kumaon in Uttarakhand.
You can follow Divya (dugardd) on Instagram.
Bringing you independent, solution-oriented and well-researched stories takes us hundreds of hours each month, and years of skill-training that went behind. If our stories have inspired you or helped you in some way, please consider becoming our Supporter.