On World Kindness Day, the former DGP will donate 20,000 food packets to school children. In an inspiring post on Facebook by Humans of Bombay, he spreads a precious life lesson.
India is a country of extremities. It is a country where nearly 1.8 lakh tonnes of food is wasted everyday and around 20 crore people go hungry every day. How ironical is it! To bridge this gap, a retired IPS officer D Sivanandan started an initiative to feed the needy.
The initiative, called Roti Bank, was started in December last year and collects leftover food from restaurant, clubs and parties and distributes it to poor people before it gets stale.
Today, on World Kindness Day, this kind officer has teamed up with a non-profit organisation Kindness Unlimited to donate 20,000 food packets to school children. "Kindness can be taught to a child," he says to the Humans of Bombay.
Sivanandan grew up in a small village in Tamil Nadu with his three siblings. All of them attained education with bare minimum resources but thrived to achieve something big in life. His parents weren't very educated, but there was one thing that they made sure to teach their children- to share when they had enough.
After a few years, Sivanadan became a college professor and taught Economics. However, he wasn't satisfied with his job- he wanted to do something for the society, for people in need. He applied for the UPSC exams and and cleared it in the first attempt itself. Everything was on merit, he just had to spend Rs 85 for the test fees.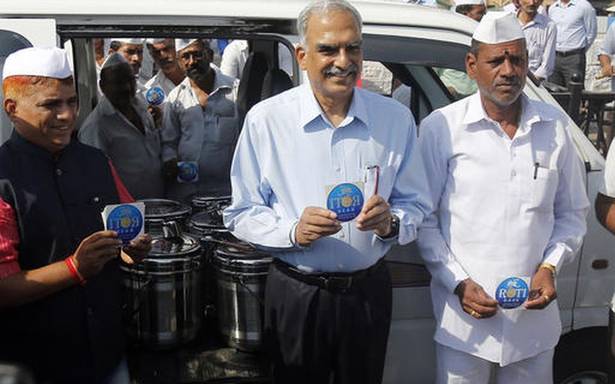 After joining the police, Sivanandan faced the reality. He knew the root cause of every crime- lust, greed and hunger. Back in 1998, when gang violence was on its peak, he saw a woman on a news channel who was afraid if her husband would come back home safely. Sivanandan knew that the people who were behind gang violence were the ones who were deprived of basic needs. He knew that the problem had to be solved from its roots.
"All gang violence was started by people who didn't have enough–basic needs like food and a roof over their head. They were children of mill workers who had gone on indefinite strike and were jobless. Street children were addicted to drugs, all because they wanted to escape poverty. When I was in Gadchiroli, I saw people eat crushed red ants because of hunger," he recalls in talks with HOB.
Sivanandan was keen on helping those people. So he raised enough money and started three schools for children of underprivileged families. Today, over 4,500 children are getting education for free. Apart from that, his initiative Roti Bank has fed around 3 lac people in Mumbai. And his kindness continues to make a difference in the society.
"So, all I ask for people who are ever benefited by someone's kindness is that they pay it forward. All you need is small acts of kindness. You can't see it at the time–but trust me, it creates big ripples in the Universe," he concludes.
We hope that kindness overcomes the hatred which is brewing in the air and we all work to make a better society for ourselves and generations to come.
Bringing you independent, solution-oriented and well-researched stories takes us hundreds of hours each month, and years of skill-training that went behind. If our stories have inspired you or helped you in some way, please consider becoming our Supporter.